New location includes family medicine, urgent care, and many specialists.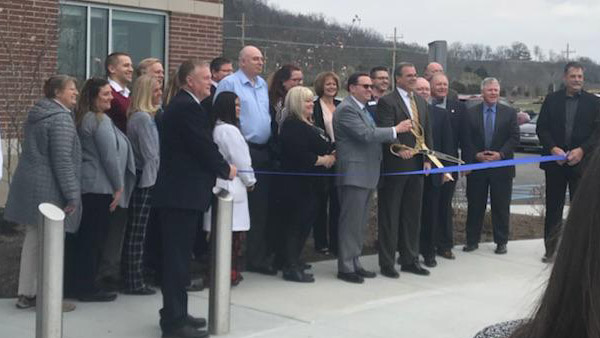 The ribbon-cutting at St. Elizabeth Healthcare's new office in Greendale, Indiana on Tuesday, April 10. Photo by Lori Enright, Eagle Country 99.3.
(Greendale, Ind.) – St. Elizabeth Healthcare's new medical office building in Greendale is now open.
A grand opening and ribbon-cutting was held for the multi-million dollar, 25,000-square-foot facility Tuesday. More than 150 people attended the event, which featured a fly-in by a medical helicopter.
Dr. Aleah Gibson is the lead physician for St. Elizabeth in Indiana.
"There's a (healthcare) access issue. I think that people need to be seen faster and sooner than they are. From a primary care aspect, that's our goal - to serve that need and get patients seen when they want to be seen," Gibson said.
In addition to family medicine and urgent care, the Greendale location includes specialty services such as neurology, spine and pain management, behavioral health, podiatry, endocrinology, dermatology and weight management. St. Elizabeth Healthcare says additional specialties will be added in the future.
"We're trying to get care to people who really need it. We have an urgent care that is open seven days a week. It's a much needed commodity here," St. Elizabeth Greendale office manager Lea Donley.
"St. E" has had physicians in Dearborn County for about 10 years at offices in Aurora and Hidden Valley. Donley says those offices will remain open even with the addition of the new medical office building.
"We pull patients from a very large area in southeastern Indiana. We want to continue to serve those areas," Gibson said.
The new building on Flossie Drive had been under construction since late 2016. About 75 people, including 15 doctors, will work there.
RELATED STORIES:
St. Elizabeth To Cut Ribbon On New Greendale Medical Office Building April 10