Red Kettles in communities across the state now offer digital donation capabilities through Apple Pay and Google Pay.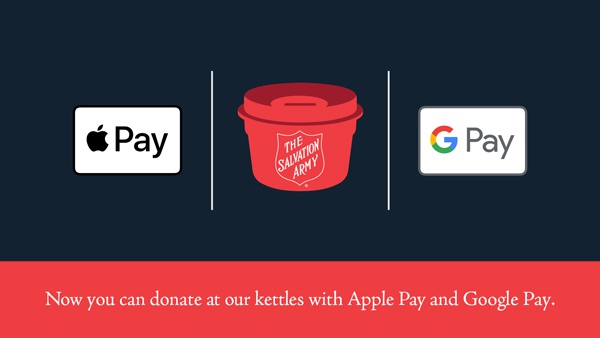 (Indianapolis, Ind.) - With cash becoming a thing of the past, The Salvation Army Indiana Division is making accommodations for those wanting to donate.
This Christmas season, you are able to make a gift with Apple Pay or Google Pay at the iconic Red Kettles.
The Salvation Army has placed smart chips and QR codes on most Red Kettle signs across Indiana, which allows shoppers to simply "bump" or scan their phones to make a digital donation. A short video was made explaining how this new payment method works.
A custom donation page will be available for shoppers who choose to donate digitally. The donation will be distributed to the local Salvation Army based on the donor's billing ZIP code, and an email receipt will be sent directly to their phone after donating.
Any Red Kettle across the United States with a Kettle Pay sign will allow this digital payment to their hometown Salvation Army.
"Kettle Pay is making it even easier for donors to give back, even if they don't carry cash or check books anymore," explained Major Bob Webster, Divisional Commander for The Salvation Army. "We've offered online giving for years, but this new technology simplifies the process. It's just a quick tap of the phone to the sign and you're ready to make your donation. This will help The Salvation Army serve the thousands of Hoosiers who come to us in their time of need."
Celebrating the 129th year, The Salvation Army's Red Kettle Campaign is one of the oldest and largest charitable campaigns in the world.
This campaign raises millions of dollars to provide toys for kids at Christmas, clothes and shelter for the homeless, food for the hungry, after-school programs for kids, and other services to America's most vulnerable populations year-round.
You can donate at any of the traditional Red Kettles, online at SalvationArmyIndiana.org, or on your phone by texting KETTLE to 91999. Volunteers can sign up by visiting RegisterToRing.com.
To learn more about how you can join The Salvation Army, visit SalvationArmyIndiana.org.
RELATED STORIES: