The annual fire truck pull to benefit Special Olympics Indiana happens Saturday, August 18 in downtown Lawrenceburg.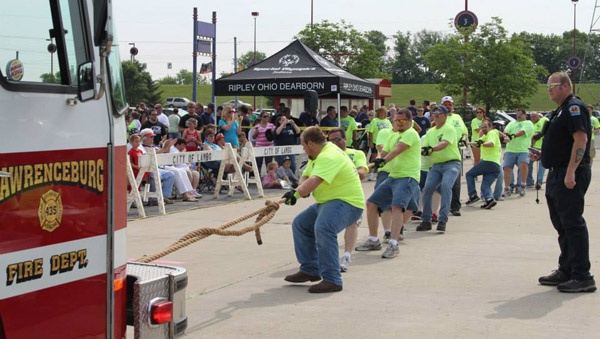 (Lawrenceburg, Ind.) - The City of Lawrenceburg is reminding residents and business owners of upcoming road closures during the annual Fire Truck Pull.
For the seventh consecutive year, the Lawrenceburg Fire Department is partnering with Special Olympics Indiana for the Fire Truck Pull on Saturday, August 18 in downtown Lawrenceburg.
Teams of 15 or less will show off their teamwork and strength by playing tug-of-war with the department's largest ladder truck, weighing in at 37 tons. Proceeds from the event will benefit Special Olympians residing in Ripley, Ohio and Dearborn counties.
The event will require the following road closures and restrictions:
East High Street will be closed from Short to Walnut Street and West High Street will be closed from Walnut to Vine Street; with Walnut Street's intersection remaining open.
The streets will be closed from 7:00 a.m. to approximately 10:00 p.m. Any alleys that exit onto the closed portion of High Street will also be closed.
All vehicles parked on the portion of High Street to be closed will need to be moved by 6:00 a.m. or earlier on August 18.
Event participants and spectators are encouraged to use the free parking garage at the end of Walnut and Short streets.
Anyone with questions or concerns should contact the Mayor's office at 812-532-3552.