Students from Dearborn, Ripley and Franklin County Adult Education programs received their HS Equivalency Diploma.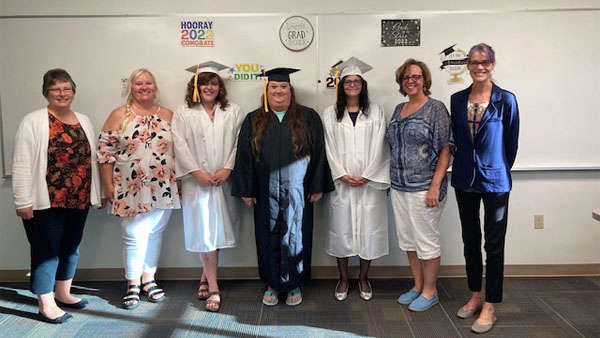 From left to right - Mary Abrams, Dearborn County in-person HSE Instructor; Heidi Kelley, Franklin County HSE Instructor; Patricia Reams, Brookville; Amy Cain, Greensburg; Bobbi Caseltine, Milan; Laura Priebe, Dearborn County virtual HSE Instructor, and Konnie McCollum, Director of RVR Adult Ed. Graduates not pictured - Keirstin Edwards, Keirstyn Heath, Jessica Hurst, Jessica Jeffries, Dylan King, Landen Madden, Brice Perkins, Joseph Reeves, Damien Sailor, Douglas Shoemaker, Luke Shorter, Makayle Shopher, Justin Hall, Andrew Harness, Destiny Woodruff, Tristan Hoowell, Vanessa Theetge, and Francisco Blanco. Photo provided.
(Madison, Ind.) - Graduations come at different times for different people, and this is even more true for non-traditional students. Wearing a cap and gown and receiving that diploma or degree marks an important milestone regardless of age or prior experience. On Wednesday, June 29, 2022, students from Dearborn, Ripley and Franklin County Adult Education programs and their guests celebrated those who have earned their High School Equivalency Diploma.
Ivy Tech hosted the graduation ceremony, and each graduate was presented with a scholarship from Ivy Tech that covers tuition and books for their first class. Three graduates were able to attend in person, and approximately 50 family and community members came to celebrate them. Phi Beta Kappa sorority provided refreshments, and the Honorable Judge Sally McLaughlin of the Dearborn/Ohio County Circuit Court II, the keynote speaker, shared highlights from her personal story and words of wisdom from her father.
River Valley Resources, the state-approved Adult Basic Education and English Language Learning program provider for 12 counties in southern Indiana, offers free classes and training for adults who are unable complete high school education in the traditional way. Students study with teachers and other students to prepare for the High School Equivalency Exam, which most people still think of as a GED.
Not everyone follows the same path to achieve their goals, but these individuals persisted despite many personal obstacles. Their stories are truly inspiring.
To learn more about RVR's Adult Ed program, or to follow the stories of individual students, reach out on social media (on Facebook at RVRAdultEd), check out the website https://www.rivervalleyresources.com/education-training, or call Mandi at 855-591-7849.