Serving in the military runs in the Scott family.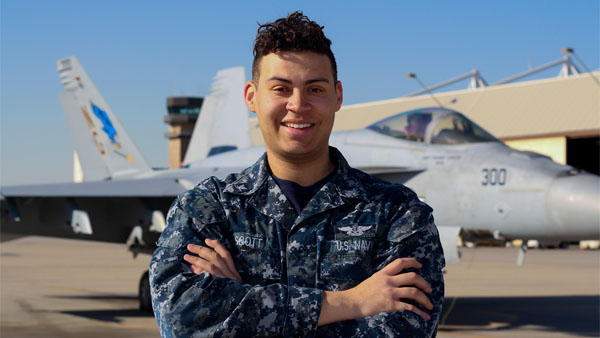 Petty Officer 3rd Jacob Scott. Photo by Mass Communication Specialist 1st Class Tim Miller.

(Lemoore, Ca.) - A 2014 Rising Sun High School graduate and Rising Sun, Indiana, native is currently serving with a U.S. Navy strike fighter squadron which flies one of the world's most advanced warplanes.
Petty Officer 3rd Class Jacob Scott is an information systems technician with the Warhawks of VFA 97, which operates out of Naval Air Station Lemoore. A Navy information systems technician is responsible for maintaining software support for the aircraft to keep lines of communication open.

"Growing up I was taught humility," Scott said. "It has helped me become humble in the Navy. It allows me to develop good character traits."

Members of VFA 97 work with the F/A 18 Super Hornet, one of the most advanced aircraft in the world. The Super Hornet takes off from and lands on Navy aircraft carriers at sea and is capable of conducting air-to-air combat as well as striking targets on land. It is approximately 61 feet long, has a loaded weight of 51,000 lbs., and a max speed of 1,190 miles per hour.

Operating from sea aboard aircraft carriers, the Super Hornet gives the Navy the power to protect America's interests anywhere, at any time. The versatile jet has the ability to destroy targets located hundreds of miles inland, without the need to get another country's permission to operate within its borders.

"Strike Fighter Wing, U. S. Pacific Fleet, based at Naval Air Station Lemoore, California, is the heart of Naval Aviation," said Capt. James S. Bates, Deputy Commodore, Strike Fighter Wing, U.S. Pacific. "The sailors assigned to SFWP always exceed expectations and produce amazing results through team work and dedication to their department, squadron, the U.S. Navy and their family. Naval Aviation is a challenging occupation, but our sailors work day in and day out to provide fully mission capable aircraft and fully qualified aircrew to ensure leadership is able to answer national level tasking. I am humbled to be able to lead the sailors of SFWP and I am proud to call Lemoore my home."

Scott has military ties with family members who have previously served and is honored to carry on the family tradition.

"My grandparents were in the Army National Guard," said Scott. "Their word was good as oak and I believed them wholeheartedly about what the military could do for me."

Scott is also proud of receiving Sailor of the Day while on deployment aboard USS John C. Stennis.

As a member of one of the U.S. Navy's most relied-upon assets, Scott and other sailors know they are part of a legacy that will last beyond their lifetimes providing the Navy the nation needs.

"Serving in the Navy means that I get a path that I don't have to take alone because I am surrounded my peers," Scott said. "The path only broadens the farther you go."