Rising Star Casino has not yet announced a date for the ferry to open to the public.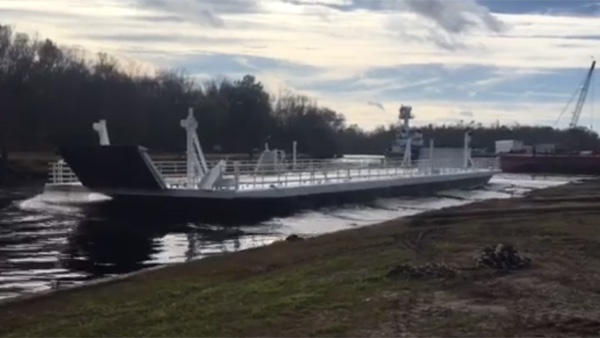 The Rising Star Casino ferry boat was launched in January. Image via Rising Star Casino/YouTube.
(Rising Sun, Ind.) - The Rising Sun to Rabbit Hash ferry is getting closer to reality.
The ferry will be operated by Rising Star Casino, as it seeks to make it easier for northern Kentucky customers to get to the riverboat casino. Plans were first announced in 2015.
Rising Sun Mayor Brent Bascom says the city council will vote on approval of an operating license for the Ohio River ferry boat. The necessity of the local approval was not learned until somebody uncovered a 1921 state code that required the operator to pay a ferry license fee of between $10 and $50 per year, as well as a one-time surety bond between $500 and $2,000.
The city will charge Rising Star Casino only $10 for the annual license and a $500 bond, Bascom says. A vote could happen on May 3.
Ohio County is also expected to award a permit required by a similar state law as soon as May 7.
In another positive step toward the ferry's opening, the U.S. Army Corps of Engineers also approved a permit for the ferry, Bascom was told in an email this week from Indiana U.S. Senator Joe Donnelly's office.
"It sounds like we're getting really, really close," said Bascom.
Rising Star Casino has not yet announced a date for the ferry to open to the public. In a March news release about Full House Resorts, Inc.'s fourth quarter results, the Rising Star parent company's CEO said the ferry would debut prior to the summer season.
"We expect to receive the final permit from the Army Corps of Engineers in mid-March and will begin construction immediately on the roads and ramps along the Ohio River permitting ferry service between Rising Star and the populous and prosperous region of northern Kentucky, directly across the river. The ferry boat itself is comprised of a new push tug and barge. The tug is in a shipyard in Cincinnati and the barge is en route from a shipyard in Florida, where it was constructed. We hope to commence the ferry boat service prior to the peak summer season. We have also purchased and staged the materials to extensively refurbish the Rising Star pavilion during the upcoming second quarter, so visitors arriving on the new ferry will have a significantly enhanced arrival experience," said CEO Dan Lee.
When it opens, the drive from northern Kentucky to Rising Sun will be cut from an hour to only about 20 minutes for many commuters.