The Southeastern Indiana Board of Realtors has donated a new greenhouse to the YES Home.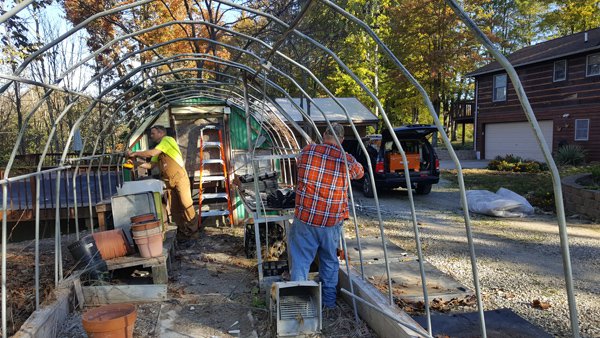 SEI Board of Realtors Community Service Committee members Chris Powell and Josh Mangold work on the greenhouse at the YES Home. Photo provided.
(Manchester, Ind.) - Local realtors are helping out the YES Home in Dearborn County.
The YES Home is a non-profit group home for children ages 13 to 18. It is located at the James B. Wismann Youth Home on County Farm Road in Manchester. Learn more at www.yeshome.org.
The Southeastern Indiana Board of Realtors helps a lot of organizations in the six-county area it covers. Recently, the board's community service committee put money and their own sweat into replacing the YES Home's greenhouse.
"Last year we decided to do the greenhouse project because children who live there wanted to grow their own vegetables," says Sue Page with SEIBR.
The board of realtors has budgeted up to $5,000 for the project, with any leftover money being donated to the YES Home's recreation center.
The board has already donated more than an additional $5,200 to the rec center. SEIBR raised the money, over $10,200 total, at its charity auction last December.
SEIBR Community Service/Program Members:
Co-Chairwoman Paige Wurtz
Co-Chairman Noah Haring
Todd Bischoff
Amber Dennis
Shanna Gentry
Leslie Hohulin
Jay Knowles
Sarah Jordan
Josh Mangold
Chris Powell
Colleen Robertson
Gregory Townsend
Tricia Williamson
Terry Yaeger
Katie Zeinner