Special Olympics Indiana was among the grant recipients.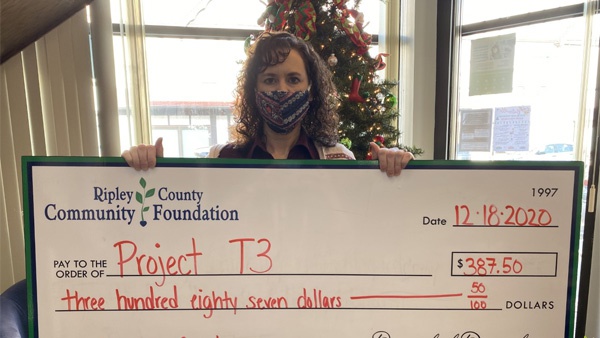 Photo provided.
(Batesville, Ind.) - The staff of the Ripley County Community Foundation had the opportunity last month to award grant funding to the nonprofit organizations of their choice. A total $1,550.00 was granted out amongst three organizations: GinnFarms Corporation, Special Olympics Indiana of Ripley Ohio Dearborn (ROD), and Totes for Tots and Teens (Project T3).
GinnFarms Corporation received $387.50 to assist with purchasing fresh food, which will be provided to students in local schools. Special Olympics Indiana ROD was granted $775.00 to support operating expenses associated with the 2021 Winter Olympic Games and/or the 2021 Polar Plunge. Project T3 received $387.50 to purchase items that will fill overnight bags for foster children.
"Ripley County is home to so many wonderful charitable organizations that each have a unique purpose, which made the decision to choose very difficult for the staff members," stated Amy Wonnell, Marketing Officer of the Ripley County Community Foundation. Wonnell further noted, "Our desire is to create a positive impact to be felt by many people throughout Ripley County, and I'm ecstatic that I had the opportunity to assist with the decision of which organizations may create that positivity."
The staff unanimously decided to proactively grant out the funding to organizations that served the entire county and had not yet received funding from the Community Foundation during the 2020 granting cycle.
If you have any questions or concerns regarding the Proactive Staff Grants or are interested in making a donation, please contact the Ripley County Community Foundation by stopping by 13 E. George Street, Suite B, Batesville, Indiana, calling (812) 933-1098, emailing office@rccfonline.org, or visiting www.rccfonline.org.