This year's scholarship recipient is a member of the Dean's List at NKU.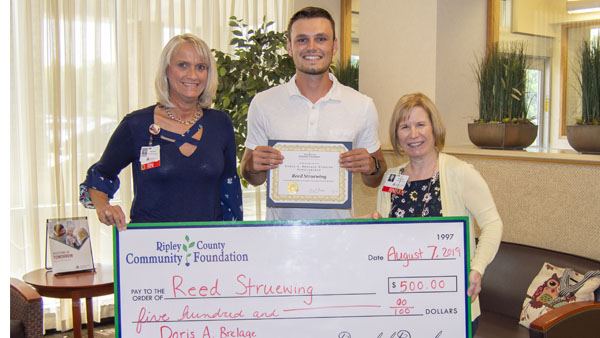 Mary Norman, RN (left), Reed Struewing (middle), and Lisa Banks, RN (right).

Photo provided.
(Ripley County, Indiana) The Doris A. Brelage Nursing Scholarship has been awarded to a Northern Kentucky University student, Reed Struewing, by the Ripley County Community Foundation. Every year, the RCCF is proud to distribute the Doris A. Brelage Nursing Scholarship because of the character and work ethic of Doris Brelage. She was a great example of the best Ripley County has to offer: kind, generous, and dedicated to the community. The Doris A. Brelage Nursing Scholarship was established by the family of Doris Brelage after her death. Doris was a registered nurse and EMS member; she spent thirty-seven years at Margaret Mary Community Hospital as director of nursing, head of surgical nursing, and director of infection control.
Lisa Banks, RN, states, "Doris was a dedicated nurse, great friend and mentor. I think she would be very proud to support Reed in his nursing career. Reed's dedication to community service and aspirations to positively impact others were shared by Doris." Reed Struewing is the son of Lisa and Mike Sruewing, and is pursuing a Bachelor of Science in Nursing degree at Northern Kentucky University. He serves as Education Chair and Social Chair of his fraternity, as well as a member of the Freshmen Service Leadership Committee. He is a member of the Dean's List and has over 200 hours of community service, including helping to raise over $50,000 for the Alzheimer's Association of Greater Cincinnati. On why he chose nursing as a career path, Reed states, "I chose this course of study because I want to make a difference in peoples' lives and look back in 30 years knowing I've made an impact."
To qualify for this scholarship, students must be a graduate of Batesville High School or be nominated by a practicing nurse at Margaret Mary Community Hospital, be accepted into a nursing school, and demonstrate dedication to both academics and community service.
To donate to the Doris A. Brelage Nursing scholarship, visit our website at https://rccfonline.org/ or stop by our office at 13 E. George St., Suite B Batesville, IN 47006. Contact us at (812) 933-1098 or office@rccfonline.org with any questions or to learn more about our scholarships.