Through the years and changes, the one thing that has stayed consistent is the fall celebration.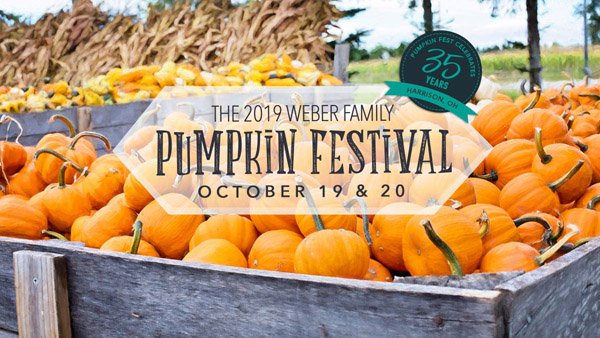 (Harrison, Oh.) – The annual Weber Family Pumpkin Festival returns this weekend, October 19-20.
The event is celebrating it's 35th year overall, and 5th year at Weber's Family Farm, 6007 Kilby Road Harrison, OH.
In 1984, the festival started as a "small backyard gathering" and is now a large attraction that brings together thousands of people from all over the region.
Since the seamless transition from Minges Farm to Weber's in 2015, they have been able to continue the tradition just a few minutes away from the original location.
The Pumpkin Festival will open Saturday at 9:00 a.m. and will run until 6:00 p.m. On Sunday, the festival will be open from 9 :00 a.m. – 5:00 p.m.
This is a rain or shine event, so be prepared for whatever the weather may bring.
You can celebrate the fall season by participating in all that this festival has to offer. Live music, more than 175 arts and crafts exhibitors, food, live demonstrations, and activities for kids will be ongoing throughout the weekend.
Saturday's live music begins at 11:00 a.m. and includes Michelle Robinson Band, Kim Hale, Jim Burns Band, and Horizon.
On Sunday, performances by Dan Waters, Frontier, David Lewis, and Leroy Ellington Band will kick off at 10:00 a.m.
For more information and a full list of events and times, you can visit http://www.webersfarmmarket.com/pumpkin-festival.html.