Charlie Keyes has not been criminally charged for being dishonest about the hours he worked as a deputy marshal in West Harrison.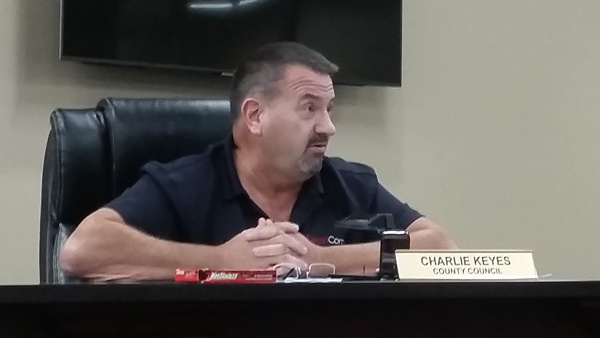 Charlie Keyes. Photo by Mike Perleberg, Eagle Country 99.3.
(West Harrison, Ind.) - A letter from the Dearborn-Ohio County Prosecutor's Office may explain why a member of Dearborn County Council resigned from the elected position and left his job as a police officer.
Charlie Keyes, a Republican, abruptly resigned from county council on January 16. After our initial report about his resignation earlier this week, Eagle Country 99.3 then learned Keyes had also resigned from his job as a deputy marshal in West Harrison.
A January 9 letter from the county prosecutor states that Keyes was allegedly being paid for hours he was not actually working last November. Keyes had allegedly not been honest in reporting his time coming on-duty as well as going off-duty.
Prosecutor Lynn Deddens told West Harrison Town Marshal Gary Noel that she would no longer accept charges from Keyes.
"As a result of his actions and that fact that it bears directly on Deputy Marshal Keyes' ability to be truthful, myself and my office will NOT call him as a witness nor accept charges based on his testimony," Deddens wrote in the letter.
That development likely led to Keyes' resignation from the town police department.
Keyes has not been criminally charged for the situation which may constitute charges of official misconduct, ghost employment, or theft.
Joseph Sprafka, attorney for the West Harrison Town Board, issued a statement in response to questions posed by Eagle Country 99.3.
"Last November, Mr. Keyes underwent a job performance review. The Board learned of the results of this review by Mr. Keyes' superior, Deputy Noel. The Board determined that Mr. Keyes understood his obligations as a Town employee and would comply with them going forward," said Sprafka.
"The Board then received a January 9, 2019 letter from Attorney Deddens and was considering her position when Mr. Keyes resigned. The Board remains concerned with the issues raised in this letter."
The town board or its attorney did not indicate whether any public funds owed to the town have been or may be recouped. A question about whether the town declined to press criminal charges against Keyes was also unanswered.
Meanwhile, Keyes' seat on Dearborn County Council will remain empty until a Dearborn County Republican Party caucus scheduled for Wednesday, February 6.
A phone call to Keyes earlier this week seeking comment on his resignation has not been returned.
RELATED STORIES: