A West Harrison man is the suspect in a nearly day-long standoff in Dearborn County.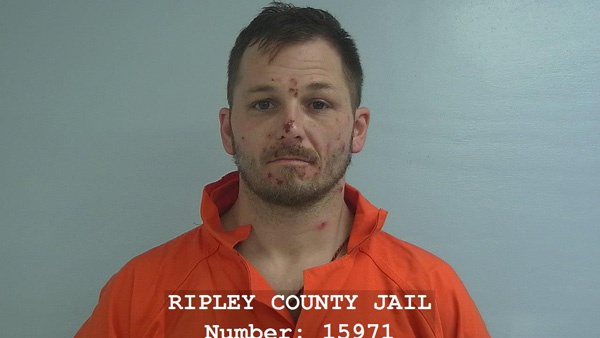 Nicholas A. Gregory is identified as the suspect in a police standoff in Dearborn County which began Tuesday, July 30. Photo by Ripley County Sheriff's Office.
Update published at 4:16 p.m.:
More than 18 hours after it began, a standoff situation between Dearborn County police and an armed home invasion suspect came to an end.
The situation came to an end Wednesday afternoon at a home on Banberry Drive in Bright. However, nearby Stateline Road remained closed to traffic as of 4:00 p.m.
A newly filed arrest warrant reveals that the suspect in the situation is Nicholas A. Gregory, 37, of West Harrison. The warrant filed Wednesday morning charges him with Burglary While Armed with a Deadly Weapon (level 2 felony).
The warrant affidavit details the situation that led up to the standoff. It began Tuesday evening, July 30 when Gregory and a woman he was dating had a verbal and physical altercation at a residence on St. Peters Road in Franklin County. According to the affidavit, Gregory threatened to shoot a goat if the woman left the home with her mother. He allegedly fired a shot toward the goat. Then as the woman left with her mother and her four-year-old daughter, Gregory allegedly fired two more shots.
The women went to the mother's home on Banberry Drive. Gregory later arrived and began pointing a firearm toward the woman's father and other family members inside. Several minor children were among the people in the home. 911 was called.
Armed with a gun, Gregory allegedly forced his way into the home by busting through a deadbolted door, the affidavit states. Police say he proceeded to the garage where there was a safe full of guns to which only he knew the passcode to access.
As police arrived at the scene, Gregory ran up the stairs of the home and barricaded himself in a bathroom.
Meanwhile, officers were able to safely evacuate all the family members from the residence.
Investigators noted in the search warrant that a negotiator was being brought to the scene to attempt to contact Gregory.
According to the affidavit, Gregory is ex-military. He was two pending court cases including a Battery charge in Ripley County filed in February and a Possession of Methamphetamine charge filed in June in Franklin County.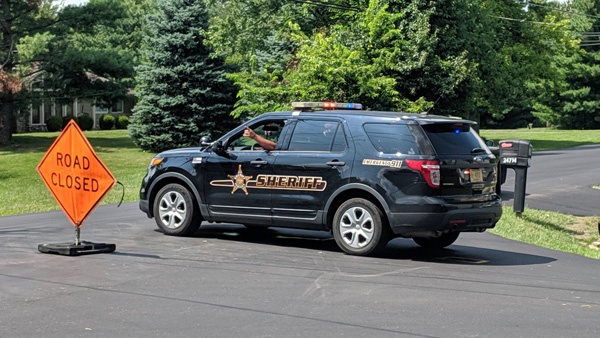 Photo by Mike Perleberg, Eagle Country 99.3.
Update published at 10:30 a.m.:
Dearborn County Dispatch advises that Stateline Road remains closed as of 10:30 a.m. The standoff remains active.
Original story published at 5:26 a.m.:
(Bright, Ind.) - A standoff involving police and at least one suspect in Bright has forced the closure of Stateline Road Wednesday morning, July 31.
The standoff began just before 11:00 p.m. Tuesday at a home on Banberry Drive near Stateline Road. 911 calls indicated a man had fired shots and was barricaded inside a home's bathroom.
Indiana State Police's emergency response team was called to the scene, which remains active as of 5:00 a.m.
Dearborn County Sheriff Shane McHenry says Stateline Road will be closed between North Dearborn Road and Bunkum Road until further notice due to the standoff.
Eagle Country 99.3 will share more information on this story as it becomes available.
Stateline Road closed at North Dearborn @eagle993 pic.twitter.com/ZSlteuO3as

— Greg Rahe (@Hoosiernewshoun) July 31, 2019