The lovely red "tree" is a holiday tradition at the southeastern Indiana casino.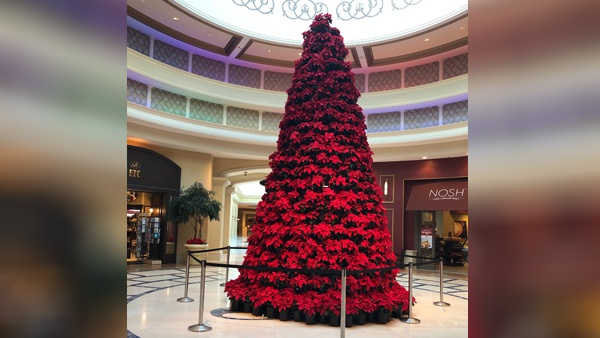 (Florence, Ind.) - It's beginning to feel a lot like Christmas at Belterra Casino Resort in Switzerland County.
The casino has welcomed the holiday season by erecting its popular giant poinsettia tree. Casino visitors will find it in the main pavilion.
The poinsettia tree has been a tradition at Belterra since the riverboat casino opened in 2001.
"Thousands of guests have made visiting our poinsettia tree a holiday tradition for many years," said Peter Chu, vice president and general manager of Belterra Casino Resort. "We experience visitors throughout the region making a trip to Belterra to enjoy the tree, take family photos and get in the holiday spirit. Many people also make a full experience of their visit by enjoying dinner at 19 Steak and Seafood accompanied by an evening in our hotel."
The display is comprised of 700 poinsettias towering 20 feet tall and measuring 12 feet wide. It takes about a week to build.