Brett Fox was an employee at the ski area's snow tubing hills.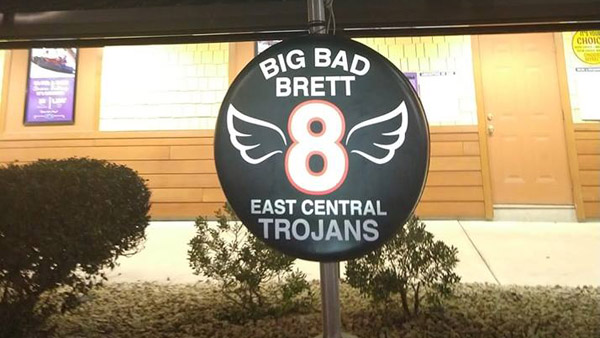 A snow tube with Brett Fox's number 8 is mounted on a flag pole at Perfect North Slopes. Photo courtesy of Tim Doll.
(Lawrenceburg, Ind.) - Perfect North Slopes will close its snow tubing area on Wednesday so that employees can mourn the loss of a co-worker.
The ski area wants to allow its employees to attend the celebration of life ceremony for East Central High School senior student Brett Fox, who was among its workforce.
The celebration of life ceremony will be held at East Central High School from 4:00 until 7:00 p.m. Wednesday, February 27. Perfect North says it wanted to give employees the opportunity to grieve and celebrate Brett's life, so the tubing hills will be closed that day.
Fox, 18, died in a crash last Thursday morning on State Road 1 in Dearborn County. He was a co-captain of the school football team and had committed to play football at Thomas More University just days before his life was lost.
RELATED STORIES:
EC Friends, Fans Honor Brett Fox At Basketball Game
Crash Claims Life Of East Central Football Star, Thomas More Recruit