Pretty soon, sports gamblers should be able to place legal bets at the riverboat in Lawrenceburg.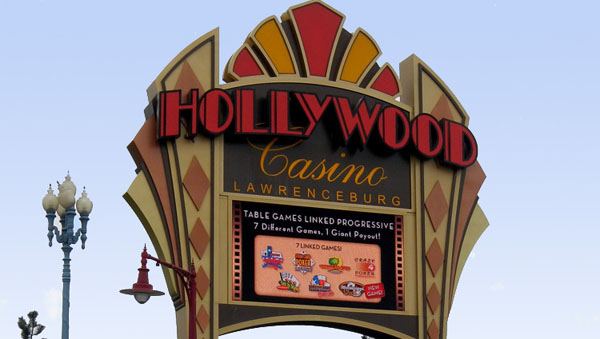 File photo.
(Lawrenceburg, Ind.) - Hollywood Casino Lawrenceburg's new sportsbook will take its first official bets on pro and college games on September 1.
Casino owner Penn National Gaming made the announcement Wednesday about the start of sports betting in Lawrenceburg.
"Penn National is excited to soon begin offering sports wagering for our customers in Southeast Indiana. The enthusiasm around sports betting has been growing since the federal ban was repealed last year, and we look forward to providing our patrons with another great amenity to enjoy at our facility," Timothy J. Wilmott, Chief Executive Officer.
The opening of the sportsbook will be celebrated on Saturday, September 7, just in time for the NFL's regular season kickoff weekend. Former Cincinnati Bengal and Pro Football Hall of Famer Anthony Munoz and former Cincinnati Reds player and Baseball Hall of Fameer Tony Perez will participate in a ceremonial ribbon cutting that day.
The start of sportsbetting anywhere in Indiana is contingent on the Indiana Gaming Commission approving rules and regulations of the activity. The commission is expected to vote on proposed rules next week.
According to Penn National, Hollywood Casino Lawrenceburg's new sports book will be conveniently located inside of the Hops House 99 sports bar, which will include a wagering counter with ticket writer stations as well as dozens of new televisions for customers to watch and wager on sporting events taking place across the country and around the world. Kiosks will be available throughout the facility to support thousands of sports betting options for patrons.
"Our customers can't wait to begin wagering on sports," said Ryan Coppola, Assistant General Manager at Hollywood Casino Lawrenceburg. "This region is a hotbed of both professional sports and college athletics, and we hope to become a destination for fans from Indiana, Ohio, and Kentucky."