The accident happened early Tuesday morning on Brownstown Road.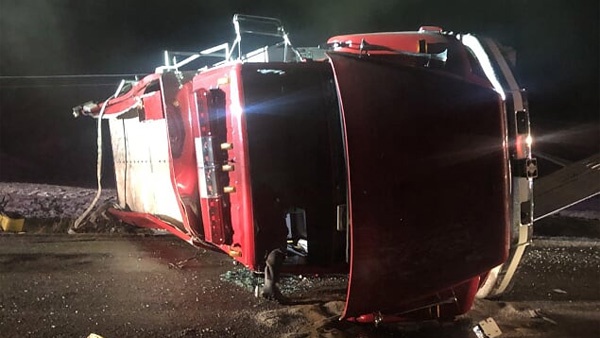 Photo by the Ripley County Sheriff's Office.
(Ripley County, Ind.) – One person was injured in a Ripley County crash involving a fire truck.
Ripley County Communications received a report of a vehicle rollover crash involving a fire truck on Tuesday morning around 6:15.
The crash occurred on Brownstown Road near the intersection with County Road 750 W.
Napoleon Firefighter Ralph Meyer was westbound on Brownstown Road and in route to a working structure fire when he met an oncoming Millhouse Fire Department tanker truck heading east. Meyer told Ripley County Sheriff's deputies that the lights from the oncoming vehicle obscured his vision, causing him to drive off the edge of the road.
Meyer's tanker rolled and came to a rest on its side. He was transported to Margaret Mary Health in Batesville for treatment of unknown injuries.