The organization will launch what it calls the first-ever joint economic development action plan for the county and all of its cities and towns.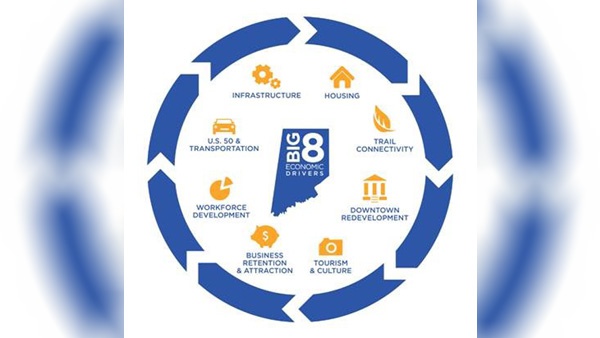 One Dearborn Inc.'s Big 8 Economic Drivers. Image provided.
(Dearborn County, Ind.) - One Dearborn, Inc. will launch in 2019 what may be the first-ever joint economic development action plan for Dearborn County and all its cities and towns.
The plan identifies what is called the "BIG 8 Economic Impact Drivers" in Dearborn County: Housing, trail connectivity, downtown redevelopment, tourism & culture, business retention/attraction, workforce development, U.S. 50 & transportation (congestion and transit) and infrastructure (sewer, broadband, roads, bridges, etc.).
"Private sector business, government leaders and nonprofit partners to One Dearborn believe these drivers are at the core of economic prosperity in the county," John Browner, Board President of One Dearborn, said.
Earlier this year, One Dearborn hired HWC Engineering – which has led several communities to achieve the State of Indiana's coveted Stellar Award – to summarize the projects and issues identified in existing community plans across the county. A steering committee representing the county, cities and towns "isolated the big issues that are limiting economic prosperity and built consensus around opportunities that haven't been fully evaluated and leveraged over the years," Terri Randall, President/CEO of One Dearborn said. Task force teams made up of a diverse group of stakeholders will focus on implementing the economic development action plan in 2019.
While these ideas and issues are already familiar to Dearborn's citizens, businesses and local leaders, what sets this latest endeavor apart from past planning efforts is a new approach focusing on "more deliberate, shared strategies."
"It is our passion to launch this plan into visible action that will bring new people and ideas to the table, strengthen community relationships, and create a system of accountability," Randall, said.
Browner added, "this is a significant step that will help ensure a prosperous future for generations to come."
To read the plan, you can follow this link: www.1dearborn.org/news-reports or visit the One Dearborn website homepage at: www.1dearborn.org.