These Oldenburg students put together impressive business plans for the high school competition.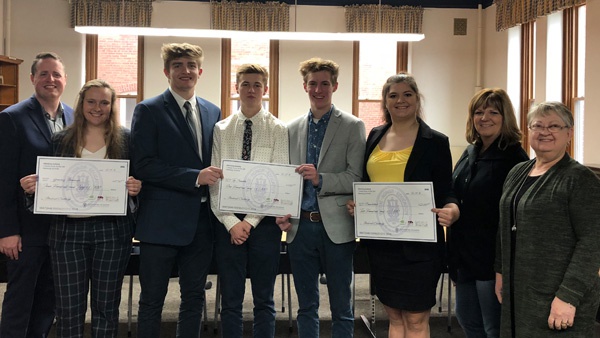 Maverick Challenge winners from Oldenburg Academy: (first row – left to right: Mr. Jonathon Maple principal of Oldenburg Academy, Alex Bamonte, Eli Sporleder, Alex Geers, Gabe Haverkos, India Burris, Shelly Lunsford of Franklin County Community Foundation, Cheryll Obendorff of Genesis Pathways to Success. Photo provided.
(Oldenburg, Ind.) - The Maverick Challenge, a business planning competition was hosted at Oldenburg Academy on December 14, 2018.
Community judges adjudicated the 12 students based on the business plans and products they created for the competition. Oldenburg Academy participated in the program representing Ripley and Franklin County.
The Maverick Challenge was started in 2008 by the Columbus Indiana Chamber of Commerce and has been a growing program since. The competition is intended to simulate the real-world process of entrepreneurs soliciting start-up funds from early-stage investors, successful entrepreneurs and community leaders. Oldenburg Academy Assistant Principal Jonathon Maple is the head of the Franklin/Ripley County competition and leads the challenge at the school, "OA is thrilled to participate in the Maverick Challenge – this is a real-world learning experience that provides students with many skills beyond the business plan." Students had the opportunity to work with business and community mentors as well as experience feedback from professional judges.
The winners were announced, and they received cash prizes. Third place winner, which received $100, was Top Smoothie, which is a smoothie truck that will specialize in healthy smoothies in the local areas. Alex Geers, Gabe Haverkos and Eli Sporleder were the three smoothie makers and leaders of the company. Second place winner receiving $200 was India Burris. Burris created "Benevolent Bracelets," specializing in friendship bracelets that gave back to nonprofit organizations and provided flowers and trees to be planted as part of the gift. The first-place winner received $450 and went to a unique flower pot company that would act as an urn for ashes. This was presented by Alex Bamonte.
"The great part about each of these businesses were the personal stories that they tied to their business – they showed passion – I am very proud," Maple commented.
The top two teams will move on to the Spring Maverick Challenge Regional Competition, where nine counties will compete against each other, hosted by Columbus Area Chamber of Commerce. They then have a chance to move on to the state competition at Ball State University, called Innovate WithIN.
Genesis Pathways To Success out of Ripley County, Franklin County Community Foundation, Oldenburg Academy and the Batesville Area Chamber of Commerce all sponsor the challenge. "We truly cannot have this without their support and assistance, we are so grateful to live and work in such a supportive community," Maple commented. Anyone interested in participating in the Maverick Challenge can contact Maple at jmaple@oldenburgacademy.org
Oldenburg Academy of the Immaculate Conception is a Franciscan Catholic co-educational college preparatory high school committed to academic excellence, social responsibility, leadership and personal growth for our students who will excel in our ever-changing world. Oldenburg Academy is sponsored by the Sisters of St. Francis, Oldenburg. For more information, visit www.oldenburgacademy.org or contact Mrs. Annette Hunger, Admissions Director, at 812.934.4440 ext. 231.