Oldenburg Academy staffers Amy Grills and Cindy Nurrenberg have been with the small, private school for a decade and a half.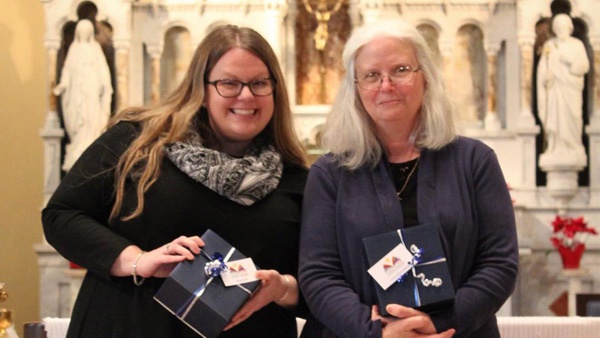 Amy Grills (left) and Cindy Nurrenberg have been with Oldenburg Academy for 15 years. Photo provided.
(Oldenburg, Ind.) - This week, Oldenburg Academy joined the over 6,300 Catholic schools across the country to remember and celebrate the gift of Catholic schools.
Among the various events planned was an all school Mass during which OA thanked members of their school communities, both past and present, who are such an integral part of what makes OA so special: their faculty and staff.
"All Catholic school educators and staff members are part of a sacred heritage, a legacy of faith and excellence, and for us, one that spans 167 years. When I meet graduates, parents and members of the community and discuss why OA is such a great school, the first thing that always come to mind is how great our teachers and staff are! And I heartily agree." states President Diane Laake
Characteristic of the fact that people retain a life-long allegiance to the Academy, members of the Ammann and Munchel families asked that the Mass be offered for the intention of two former Academy teachers: Sr. Mary Ammann OSF and Mr. Kelly Munchel. "They are icons of dedicated service, barrier-breaking enthusiasm, and the true commitment to making a difference." Laake reminded the congregation.
Also recognized and honored were Amy Grills, Math Teacher, and Cindy Nurrenberg, Finance and President's Office Support, for their fifteen years of dedicated service thus far.
Principal Brian McFee stated, "Over the past 15 years Mrs. Grills has mentored countless students, numerous teachers and just like the 'roots' of an established tree she has nourished the lives of all she has come into contact with! Mrs. Grills has taught just about every math course we have to offer here at OA and continues to work to grow as an educator and be a relatable face for all math students."
Mrs. Nurrenberg joined OA when her oldest daughter Kate enrolled as a freshman. Now fifteen years later and the proud mom of 3 Academy grads, she continues to provide faithful service in the Finance and President's Offices.
"She is one of those 'behind the scenes' dedicated souls who provide conscientious attention to details. She keeps my plants alive, my office cleaned, and my letters typo-free! She is always the first to remember someone's birthday, be guiltily delighted by a piece of chocolate and tries her best to keep Sr. Dominica out of trouble," said McFee.