Steve Chabot has won a 12th term in the U.S. House of Representatives.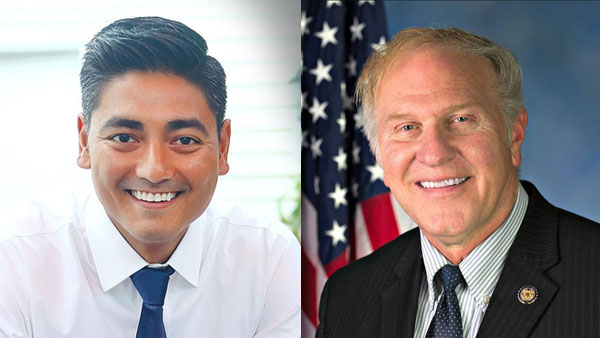 Steve Chabot (right) defeated Aftab Pureval in the race for Ohio's First Congressional District on Tuesday, November 6.
(Cincinnati, Oh.) - It was a tale of two counties in Ohio's 1st Congressional District on Election Day.
Republican incumbent Congressman Steve Chabot rolled to a re-election victory over Hamilton County Clerk of Courts Aftab Pureval on Tuesday. Chabot beat Pureval 52- to 46-percent, with Libertarian Dirk Kubala peeling off two percent of the vote.
Had the race only included western Hamilton County, Pureval would have trounced Chabot, who will serve in the U.S. House for a 12th term. Pureval outgained Chabot in the county 104,096 to 86,817, or 54- to 45-percent.
But Chabot made up some major ground in Warren County in the northeastern end of the gerrymandered 1st District. Chabot scored 66 percent of the vote, or 64,290 votes to Pureval's 31,371.
Chabot's win was part of a GOP blockade on Democratic candidates, led by Governor-elect Mike DeWine and other statewide candidates. Dewine, who won over Richard Cordray 51- to 46-percent, called for unity in his victory speech.
"As we begin this journey tonight, we must work, not as Democrats, not as Republicans, but as Ohioans," DeWine told supporters. "Ohioans united around our shared mission to ensure that every single person in this state, every child, not matter where they're born, no matter who their parents are, no matter what their circumstances are, has the opportunity to live up to their God given potential. That is our mission."
In losing, Cordray chalked it up in his concession speech to being outspent.
"We fell short tonight but while we were outspent, we proved that no amount of money can silence our collective voice," Cordray said.
U.S. Senator Sherrod Brown was the only Democrat to win a statewide race, defeating Jim Renacci. The 53- to 47-percent outcome was narrower than expected.
Ohioans also rejected Issue 1, which would have reduced penalties for several drug-related crimes. Many prosecutors, sheriffs, and local governments came out in opposition to the constitutional amendment, claiming it was only a way for the state to reduce spending for prisons. It was shot down by voters 63- to 37-percent.
In Hamilton County, incumbent county commissioner Chris Monzel lost his re-election bid. Democrat Stephanie Dumas defeated Monzel 51- to 49-percent, meaning the three-member county commission will be made up entirely of Democrats starting in January.
The Hamilton County Children's Services levy passed at the ballot box with nearly 60 percent support. The accompanying property tax increase would cost the owner of a $100,000 home an extra $69 each year.
RELATED STORIES:
Harrison City Council Passes Resolution Urging Voters To Oppose Issue 1