Four positive cases of Coronavirus have been confirmed in Ohio.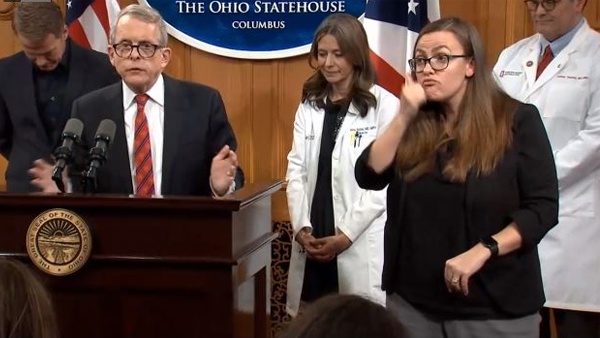 Mike DeWine addresses the State of Ohio.
(Columbus, Oh.) – Ohio Governor Mike DeWine will issue an order on mass gatherings.
DeWine announced Tuesday that he will soon issue an order across the state regarding mass gatherings after four positive cases of Coronavirus (COVID-19) have been confirmed in Ohio.
One of those cases is a Stark County man in his mid-50's with no travel history outside of the U.S.
DeWine says that means "we have a case of community spread."
"Community spread is a game-changer, said Amy Acton, Director of the Ohio State Department of Health. "You're going to see us taking more aggressive actions now. Please know that we're doing this to protect Ohioans and protect our healthcare system."
Because of the risk of "community spread", DeWine's mass gatherings order will limit who can attend indoor sporting events. For indoor events only, spectators will be limited to parents and others essential to the game.
The order will keep fans from attending NCAA Tournament games in Dayton and Cleveland. No specifics were mentioned about OHSAA, MLB or MLS games.
"Every expert has told us that there is a risk in any kind of mass gathering," said DeWine. "The closer you are to other people, the bigger the risk. You must ask yourself if going to a large gathering is necessary."
DeWine added that nursing homes and assisted living visitors will be limited to one per day per resident. There will be a single point of entry at those facilities and everyone will be screened for temperature and.or potential illness.
As of right now, Governor DeWine is not ordering to close schools. However, the governor did say "we may get to that point."
"We are doing the things we are doing because we have the potential to become like Italy," said DeWine. "We are taking the actions we are taking now to try to avoid that. The situation will get bad before it gets better, but it is in our hands to determine what the outcome will be."
We shouldn't panic, but we should take rational actions to protect ourselves, our loved ones, and others. This is an opportunity for us to come together as Ohioans. #COVID19 #COVID19OhioReady #Ohio pic.twitter.com/numh6NCcFB

— Governor Mike DeWine (@GovMikeDeWine) March 11, 2020