Gov. DeWine touched on state spending, economic development, pending legislation and more.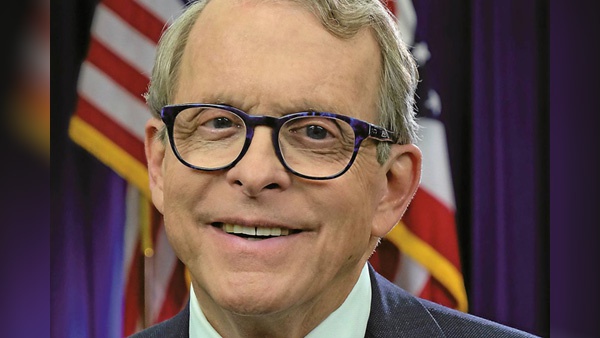 (Columbus, Oh.) – "The sun is coming up in Ohio, the wind is at our back, and together, we have the power to change the course of Ohio's history."
That was the lasing message from Governor Mike DeWine as he gave his State of the State address on Wednesday afternoon at the Ohio Statehouse.
"I'm glad to be back at the Ohio Statehouse," said Governor DeWine. "The first time all three branches of government have gathered in three years. What unites us is stronger that what divides us, and I know we're united in our love for Ohio and our belief that every Ohioan deserves the chance to succeed."
DeWine said state spending has been slashed by $1.2 billion, and taxes have been cut by more than $3.6 billion, creating Ohio's lowest tax burden in more than 40 years.
"There is simply no better place to raise a family than Ohio," the governor continued. "There is not better place to live, no better place to start or grow a business, and no better place for opportunities than Ohio."
The governor also touted the state's unemployment rate. At 4.3 percent, Ohio's jobless rate is approaching near historic lows.
Just a few weeks ago, the state announced the largest economic development investment by one company. Intel will generate more than 20,000 jobs in Ohio, which is expected to bring an additional $2.8 billion to Ohio's annual gross state product.
Other highlights from the governor's speech include investments in Ohio communities. To spur economic growth, DeWine says the state will invest in demolition of blighted buildings, remediation of hazardous brownfields, introduction of widespread broadband, career education, job training and workforce development.
Helping children in need is another high priority. DeWine is working with the General Assembly and others to create a combined scholarship and mentorship program designed to guide and mentor kids, so they have the financial support necessary to go to college or technical school.
In the area of transportation, DeWine is looking forward to signing a bill into law that will compel drivers to put down their phones and use hands-free technology to prevent crashes, save lives, and make roads safer.
In 2021, there were 43 deaths attributed to distracted driving, a record-high since 2002.
One other big topic addressed by the governor was violent crime. DeWine stated a pending bill will increase penalties for dangerous felons who continue to carry or use guns.
"We must work hard to support our officers, deputies, and troopers by giving them the resources to go after violent criminals," DeWine added. "Together, we recently allocated millions to help officers address violent crime in our communities."
The sun is coming up in Ohio, the wind is at our back, and together, we have the power to change the course of Ohio's history! We have opportunities before us that come once in a lifetime, so we must seize them. Ohio, this is our moment! #OhioSOTS22 pic.twitter.com/JCMxj3v01u

— Governor Mike DeWine (@GovMikeDeWine) March 23, 2022