Like, literally on the map.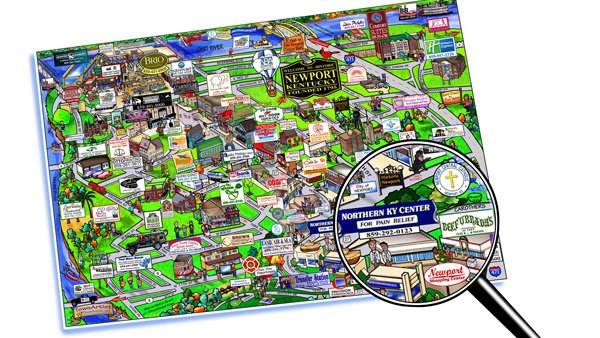 Artist rendering of an illustrated map for Newport, Kentucky. A similar map is being planned for Rising Sun and Ohio County. Image provided.
(Ohio County, Ind.) - Attention Rising Sun/Ohio County businesses, attractions, organizations, government agencies, and event organizers.
The Ohio County Convention Tourism and Visitors Commission (Ohio County Tourism) will be spearheading a project to produce a 13"X19" full-color map for county promotional purposes.
"We will be working with an artist who specializes in hand-drawing town maps. The finished product will be utilized for promotional purposes of county businesses, attractions, organizations, government agencies, and events," said Kendal Miller, tourism director.
The artist has produced similar maps for organizations in Kentucky and Ohio, including the Cincinnati Reds Hall of Fame. The finished map will not be to scale and is not intended for directional purposes.
A sample map was presented to the tourism board, Rising Sun Main Street, and to Rising Sun business owners during last month's business meeting. The feedback was positive for moving forward with one for Rising Sun/Ohio County.
The cost for an entity to be included is $50 per item, which includes a choice of one front side option and a brief written description on the back. Examples of "items" include one sign with building -or- one vehicle/billboard/balloon, etc. -or- up to three "people" caricatures. Animals can also be added.
"The artist is currently sending us promotional materials that will be made available to any interested business or organization," said Miller.
Interested businesses/organizations will receive an envelope with a contract and instructions for submitting required information to the artist. Entities will need to provide files of any company logos and pictures of their building, vehicle, or people to be drawn to depict their entity. A small portion of a blank map will also be included to notate where their location should be positioned. Once all envelopes are returned to the tourism office with the required information and files they will be turned over to the artist.
Businesses located within the Ohio County limits but not close to the City of Rising Sun can be included, although will be positioned on the map in an area away from their physical location.
The map will be an intricate process, including being returned for proofing along the way. The completed project will be printed in "tear-off" tablet form and widely distributed throughout the local area and beyond. The artist expects the completed map to be ready in the fall.
Additional information will be available soon through the Visitors Center. Space may become limited depending on the number of entities ordering items. Should this be the case, orders will be taken on a first come, first serve basis. All information, files, and payment must be submitted in full before an entry is considered complete.
For additional information, contact the Visitors Center at (812) 438-4933, Wed.-Sat. from 9 a.m. to 5:00 p.m.