The fire occurred Friday night at a home on Broadway Street.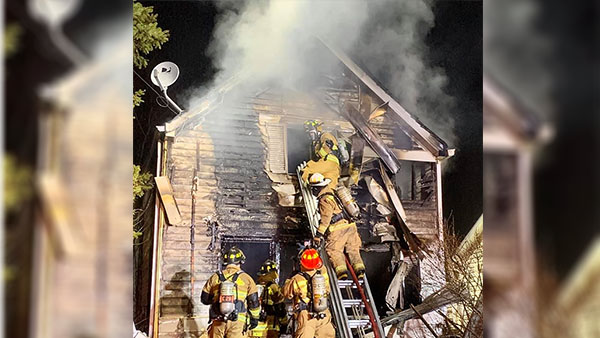 Photo by Harrison Fire Department.
(Harrison, Oh.) - A Harrison family has been displaced after a large fire broke out Friday night.
Harrison firefighters, along with numerous neighboring departments, were dispatched to a house fire on Broadway Street around 8:45 p.m.
Upon arriving at the scene, firefighters were met with heavy fire venting from the first floor of the structure, extending into the second floor.
Firefighters described the home as a "balloon frame house" meaning there are no true fire stops from the basement into the attic - which allowed the fire to run in the walls.
The fire was already tough enough to fight but dropped power lines, rain and darkness made it a very dangerous and possibly deadly situation for anyone involved.
Luckily, no injuries were reported, including the house occupants, whom reportedly made it out of the structure.
Broadway Street had to be closed for several hours while firefighters worked to contain the fire.
A cause has yet to be determined and no other information has been provided at this time.
Assisting at the scene included departments from Whitewater, Crosby, Colerain, Miami Township, Morgan Township, Bright and New Trenton.