Transferring from Ivy Tech Community College to Northern Kentucky University will be easier than ever.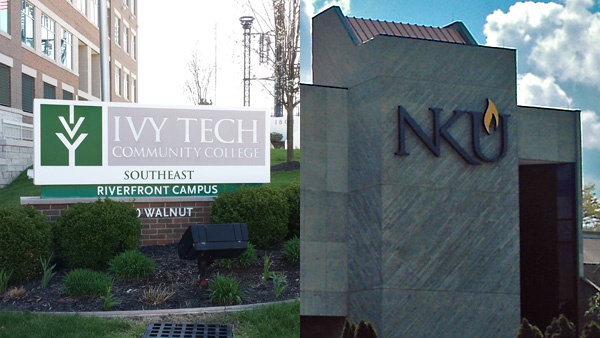 File photo and Samvscat, Wikipedia.
(Highland Heights, Ky.) - Northern Kentucky University and Ivy Tech Community College's Lawrenceburg Campus have announced a new dual-admission agreement that promotes and simplifies transfer from Ivy Tech to NKU.
NKU President Dr. Ashish Vaidya and Ivy Tech Lawrenceburg Chancellor Mark Graver signed the pathways agreement on January 15, 2019.The agreement expands the "2NKU" program, which is designed for students to transfer to NKU after earning an associate degree.
"The Ivy Tech 2 NKU program makes the transfer experience seamless for students and creates a pathway towards educational attainment. All the information and services to support students are on hand to help make transferring to NKU smooth and successful," said Kimberly Scranage, NKU vice president for Enrollment and Degree Management. "We are happy to continue this valuable partnership with Ivy Tech in supporting the region's future learners."
Ivy Tech 2 NKU offers dual-admission at Ivy Tech and NKU. While earning their associate degree at Ivy Tech, students also have access to a NKU advisor, campus resources, and student activities.
"Ivy Tech is pleased to expand our connection with students in Kentucky and offer this new partnership with Northern Kentucky University. Our students want and need efficient and cost-effective pathways to pursue their future goals," said Mark Graver, Ivy Tech Lawrenceburg chancellor. "At Ivy Tech, we believe it is our duty to provide the supports to help them in their endeavors. We want to be the catalyst that moves them beyond their two-year degrees. This partnership is a key step in those efforts and will directly benefit our regional workforce.
Ivy Tech will be the fifth program as part of the "2 NKU" Pathways program. Ivy Tech students can begin the Ivy Tech 2 NKU program starting this semester/next semester. For more information, visit nku.edu/admissions/transfer/IvyTech2NKU