The website was unveiled Thursday.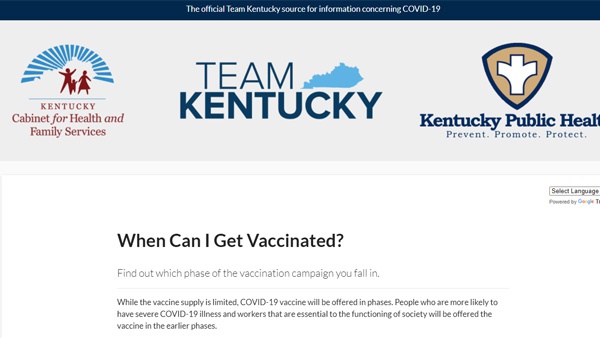 Screenshot from vaccine.ky.gov.
(Frankfort, Ky.) - A new website has been launched to help Kentuckians determine if they are eligible to receive the COVID-19 vaccine.
On Thursday, Governor Andy Beshear unveiled vaccine.ky.gov. and and a hotline that help Kentuckians determine if they are eligible to receive a vaccine and then helps them find one in their region.
Gov. Beshear stressed that Kentucky, like other states, receives its vaccine doses from the federal government and due to limited supplies it will take time before everyone can be vaccinated. But, he said, everyone will get a turn.
"Beginning Feb. 1, 2021, the COVID-19 vaccination priority will be phase 1B, people ages 70 or older, and all vaccination sites are asked to prioritize this population until further notice," Gov. Beshear said. "Other Kentuckians from phases 1A and 1B remain eligible for vaccination and as vaccine quantities and available appointment times allow, persons in phase 1C may also be scheduled, to ensure each vaccination site administers 90% or more of all vaccine doses received within seven days of arrival."
Kentuckians not currently eligible or unable to locate an available vaccine are encouraged to sign up for text or email updates by entering their name, county of residence and an email or phone number at vaccine.ky.gov. The sign-up is not a wait list or appointment scheduler, but aims to provide alerts when a person's eligibility changes, or, for example, when vaccines are available in an area.
As vaccine supplies increase, more sites will be added to the map and announced.
For more information about the COVID-19 vaccine, Kentuckians should visit vaccine.ky.gov or call the COVID-19 hotline at 855-598-2246 or TTY 855-326-4654 (for deaf and hard of hearing Kentuckians). The hotline is available Monday through Friday from 8 a.m. to 7 p.m.