City leaders do not want the new Fuel Mart to negatively impact traffic on U.S. 50.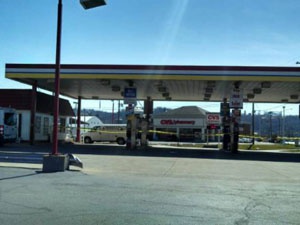 (Aurora, Ind.) - A new truck stop gas station planned in Aurora could fill up fuel tank, but local officials do not want to see it fill up U.S. 50 with more traffic jams.
Ports Petroleum LLC is planning to construct a Fuel Mart truck stop on U.S. 50 at Manchester Landing. The site consists of four parcels encompassing about 4.3 acres which were previously home to Fuel Mart and Family Dollar.
Before the project can happen, a zone change for the property from Community Business to General Manufacturing is needed. Aurora City Council had a first reading of an ordinance to do just that on April 8.
The proposed ordinance comes after a March recommendation from the Aurora Planning Commission.
Guinevere Emery, Aurora city manager, tells Eagle Country 99.3 the plan commission's recommendation included placing conditions "to ensure Manchester Landing is improved as to not hinder traffic flow, safe pedestrian access across the US 50/Green Blvd intersection and along Manchester Landing to the Dearborn Trail, and that the intersection be improved or land be set aside to improve the appearance of the intersection allowing for wayfinding signage, and to better serve as a gateway to the City."
If the property were to ever be used as anything aside from a truck and trailer filling station and the use is not permitted under the General Manufacturing zoning, the zoning would revert back to Community Business, according to Emery.
The final vote on the zone change could happen at Aurora City Council's meeting on Monday, May 13.