Grand Opening celebrations will take place through October 30.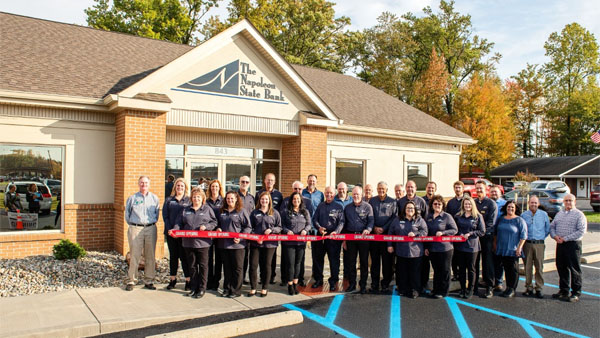 Directors, Officers, Employees, contractors and community members celebrate the Grand Opening of Napoleon State Bank's Milan location. Photo provided.
(Milan, Ind.) - The Napoleon State Bank officially opened its newest location in Milan Indiana this morning after their ribbon cutting ceremony. The bank, located at 843 N. Warpath Drive, opened shortly after 10:00 am. The Grand Opening celebrations will take place through October 30th, including a promotion for new Personal Checking accounts at the Milan Branch.
The public is invited to stop in and register for door prizes valued at more than $1,500, meet the staff, and take home a complimentary gift bag. "We are thrilled to become part of the Milan community, and we look forward to extending our products and services to the residents and businesses in the Milan area," Jeanine Crandall, Milan Branch Manager said. "I encourage everyone to stop by the branch to say hello, and to see what a true locally owned community bank is all about."
It has been a year-long process to get The Napoleon State Bank Milan location ready for business. The bank purchased the old Fifth Third property in September 2019, and renovations began shortly after. The ATM at the Milan location went live on October 2, 2020, to begin serving the customers in the area. The bank has 6 full-time employees serving at this location, including a Lender.
"The Napoleon State Bank is pleased to open our newest branch in Milan, Indiana. We are grateful for the opportunity to serve customers in Milan and surrounding areas and are looking forward to becoming part of this community," said Joe Moorman, CEO/President. "This is an exciting time in our 117 year history as a locally owned bank. We appreciate our staff and contractors that have made this branch a reality."
The Napoleon State Bank has been locally owned since 1903 and serves the Ripley and Decatur counties of Southeastern Indiana with seven locations in Napoleon, Holton, Osgood, Milan, Greensburg and Westport. Page 2 The mission of The Napoleon State Bank is to remain a locally owned financial institution, dedicated to providing a broad range of services to our customers and communities, through a friendly, trained, qualified staff that provides unsurpassed personal service to our customers. The Napoleon State Bank has a total of 85 full and part-time employees. Member FDIC & Equal Housing Lender.