The proposed property tax for some Dearborn County residents could help purchase new equipment for Bright and Miller-York fire departments.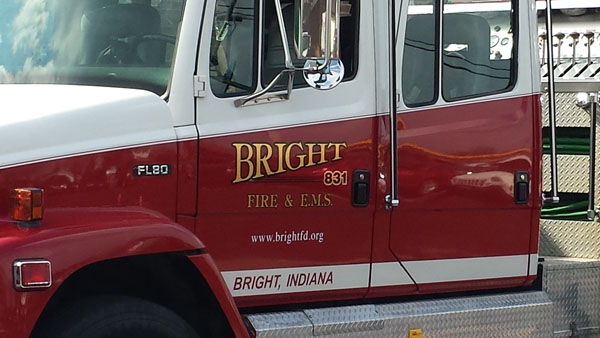 File photo
(Dearborn County, Ind.) - A property tax increase to help fire departments which serve Dearborn County's Miller Township could be voted on Monday evening.
The Miller Township Board will hold a required public hearing on a proposed new Cumulative Fire Fund tax. According to a newspaper notice about the hearing, the tax could be up to 3.33-cents per $100 of property valuation.
Township Trustee Pat Little says the money raised by the tax could help pay for new fire engines or equipment for Bright and Miller-York fire departments.
"The township would determine what the needs are and we would buy a fire ending, maybe, if that was need by the fire department," Little explains.
Little says the Bright Fire & EMS approached the township about the upcoming need for multiple new fire trucks to replace aging engines over the next five years.
Monday's public hearing on the proposed fire tax starts at 7:00 p.m. at the Bright's Lions Building on Lamplight Drive. Little expects a member of Bright Volunteer Fire Department to make a presentation about the need for the tax.
"We want to have a better idea of what their needs are," says Little.
The township board would have to pass the fire fund tax and publish a notice by April 30 in order for the tax to be implemented this year and made payable on tax bills starting in 2020. Little says the township board could opt to pass the fire fund tax at a lower rate than what was advertised in the hearing notice.
If the maximum fire fund tax of 3.33-cents per $100 of assessed valuation is approved, a property valued at $100,000 would have $33.30 cents in new property taxes each year. A $200,000 property would have $66.60 in new taxes annually.
Citizens could petition against an approved Cumulative Fire Fund tax, according to the notice. Ten or more taxpayers in the township would have to file a petition with the county auditor within 30 days after a notice of adoption is published.