The book can be found online at Amazon and Barnes & Noble.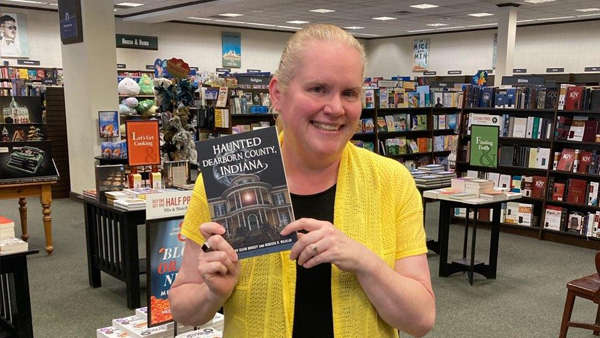 Rebecca Wilhelm with her book, Haunted Dearborn County, Indiana. Photo provided.
(Milan, Ind.) - Milan High School English teacher Rebecca Wilhelm has co-authored a book that is perfect for the Halloween season.
Wilhelm, along with Mary Ellen Quigley, authored Haunted Dearborn County, Indiana, which details strange and unusual happenings throughout Dearborn County.
The 112-page book features Hillforest Mansion in Aurora on its cover. The overview can be read below.
Several legends surround Hillforest Mansion, the home of one of Aurora's founding families. Many have seen the ghost of a farmer and his mule at Carnegie Hall in Moores Hill. The glowing grave at Riverview Cemetery may connect to the 1941 Agrue family massacre. St. Mary's Church rectory is said to be haunted by the former priest, and the spirits at Whisky's in Lawrenceburg are not just in the drinks. Several schools in the area echo with the sounds of former students and staff, and numerous local residences house the spirits of former owners who never left.
Haunted Dearborn County, Indiana is available online at Barnes and Noble and Amazon.