Lawrenceburg Mayor Kelly Mollaun says rate increases may be needed, but he wants more collaboration between his administration, city council and Lawrenceburg Municipal Utilities.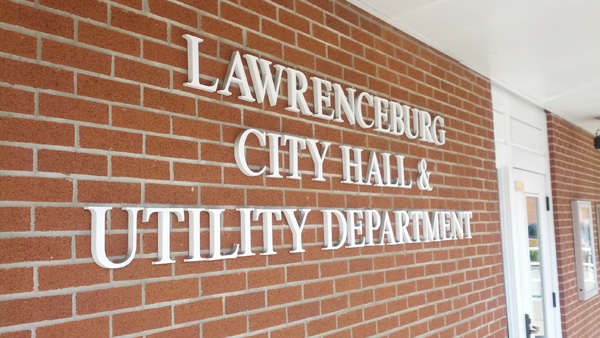 File photo.
(Lawrenceburg, Ind.) - A mayor's veto will stop rate increases on water and sewer bills for customers of Lawrenceburg Municipal Utilities – at least for now.
Lawrenceburg Common Council voted 3-2 on Monday, December 17 to approve the rate increases for residential customers of LMU. But Mayor Kelly Mollaun stopped the increases in their tracks by vetoing each of three resolutions.
Council members Mel Davis, Randy Abner, and Paul Seymour, Jr. voted to pass the rate increases, with fellow councilmen Tony Abbott and Aaron Cook voting against.
The proposed increases were for 22-percent for all customers' sewer rates. Water rates would increase 15-percent. A new electric rate structure would increase rates for just one customer in the entire city, gas power plant owner Lightstone Generation, while leaving other LMU customer electric rates the same as they are now.
LMU Director Olin Clawson has sought the rate increases following rate studies by Crowe Consultants and Bingham Greenbaum Doll LLP. Mayor Mollaun and council were only handed information on the "complicated" rate increases in November. Council voted 3-2 then to begin advertising the increases.
New revenue would help LMU avoid a deficit in 2019 and halt the need for ongoing city subsidies.
A 69-percent sewer rate increase was considered, but council has opted to avoid that large a rate hike and opt for 22-percent instead. It would have covered the deficit, as well as helped fund sewer infrastructure projects in the city. The city's Municipal Development Fund could cover those costs otherwise.
During the meeting, city attorney Del Weldon told council he reviewed the increases with the assistance of accounting firms and does not believe increases are needed.
"We don't need a rate increase of 15-percent in the water. With the sewer, not only do we not need a rate increase, but there are capital projects in there that have to be discussed individually," Weldon said.
Clawson reasoned that the rate study was done as quickly as possible due to recent rate changes at the South Dearborn Regional Sewer District.
Following his veto, the mayor told Eagle Country 99.3 his vetoes were motivated by his desire to receive more information about the rate increases. He says he understands the sewer district's rates are going up, but he is unconvinced LMU's water rates need to be increased at all.
"I'm not here to run our utilities in the red," he said. "I think we just need to make sure that anytime there is a rate increase, it needs to be a collaboration throughout the whole process. We really weren't made aware of the study until mid-November."
LMU customers deserve the city to perform its due diligence before any rates are increased, Mollaun said. The mayor wouldn't rule out supporting a rate increase if further study determines that's the action which needs to be taken.
"I think going forward, we'll have a better procedure for doing that. I know Mr. Clawson wants to do the right thing with it," said the mayor, adding that the rates could be voted on again as soon as January.
RELATED STORIES:
Monday Evening Public Hearing On Lawrenceburg Utility Rate Increases