Thursday, March 29 is the first anniversary of the holiday.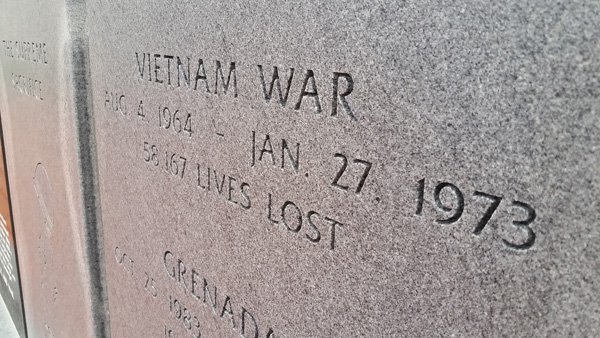 The Dearborn County War Memorial in Lawrenceburg. Photo by Mike Perleberg, Eagle Country 99.3.
(Lawrenceburg, Ind.) - Local veterans are relishing in Thursday's national observance of Vietnam War Veterans Day.
The U.S. formally withdrew from the war on March 29, 1973.
President Donald Trump signed on March 28, 2017 the Vietnam War Veterans Recognition Act of 2017. It encourages the display of the U.S. flag on March 29 to honor those Americans who fought in the war.
Thursday is the first anniversary of the holiday, which has given veterans groups time to organize observances.
"It's long overdue," says local veterans advocate P.G. Gentrup, of Rising Sun. "People remember that when the Vietnam War was going on, it wasn't too popular. Guys came home and just went on like I did – back to your job and starting a family."
LISTEN TO EAGLE COUNTRY 99.3's INTERVIEW WITH P.G. GENTRUP IN THE AUDIO PLAYER BELOW.
More than 50 local Vietnam veterans will mark the occasion by boarding a bus in Lawrenceburg, then heading to ceremonies at the War Memorial in Indianapolis. Gentrup is one of the organizers of the trip.
"My classmate, Larry Fogle, one of his letters is engraved on the side of that monument. It is something like 'Dear Mom and Pop, I don't want to be a hero, because to me a hero is someone who gives their life for his country.' Well, he wound up being killed in Vietnam," Gentrup says.
Later, the group will travel to Plainfield High School for an event hosted by Indiana U.S. Senator Joe Donnelly, who helped to pass the Vietnam War Veterans Recognition Act. The senator has invited all Hoosiers veterans, families, and community members to attend this event to honor and welcome home Vietnam War veterans.
Donnelly's program will honor United States veterans who served on active duty in the U.S. Armed Forces at any time during the period of November 1, 1955 to May 15, 1975, regardless of location.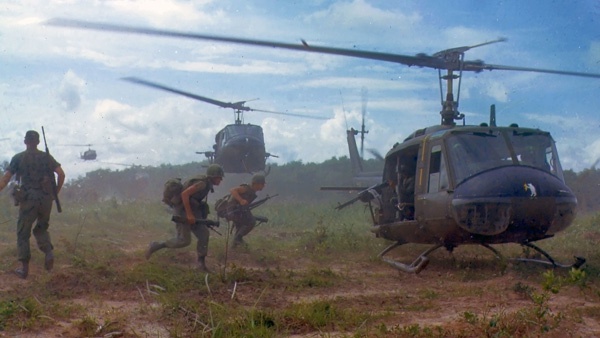 U.S. Army Bell UH-1D helicopters airlift members of the 2nd Battalion, 14th Infantry Regiment from the Filhol Rubber Plantation area to a new staging area, during Operation "Wahiawa", a search and destroy mission conducted by the 25th Infantry Division, northeast of Cu Chi, South Vietnam, 1966. Public domain photo.
Gentrup said the local veterans are dedicating Thursday evening's program to the memory of Walter Bryant, Jr. The Vietnam veteran and his daughter, Faith Craig, were brutally murdered in their Aurora home on January 19.
Bryant was supposed to join them on today's trip.
"Walt was looking forward to this trip with us. He did two tours in Vietnam. Two Army commendation medals with V for valor, three bronze stars with V for valor, and two Purple Hearts. Just an outstanding man and soldier who spent 21 years in the Army," Gentrup said.
Three area female veterans will be honored on the field at Great American Ball Park at the Cincinnati Reds' Opening Day game on Friday. Denise Singler, Julie Cassini, and Angela Slayback Erfman were each on Eagle Country 99.3 Thursday morning to share about their military service. Listen to their interviews here.
RELATED STORIES: