The market will ensure that no student has to worry about basic necessities that may affect their daily lives.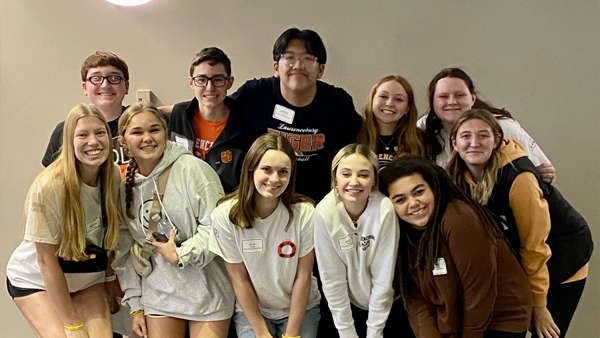 LHS Hope Squad.
(Lawrenceburg, Ind.) - Lawrenceburg High School's Hope Squad is thrilled to announce the launch of the Tiger Market, an initiative aimed at providing support to students in need. The Tiger Market is set to become a one-stop destination for essential items, ensuring that no student has to worry about basic necessities that may affect their daily lives.
"While every school in Lawrenceburg Community School Corporation has a food bank, personal supplies, etc. for students in need, we are taking this concept one step further with the Tiger Market. We are creating a one-stop spot for everything any kid might need to complete their day. It's like a little market or convenience store. Whether it is food to feed them over the weekend or you just need a hair tie for soccer practice, no kid should ever have to stress about those types of things," says Jared Leiker, principal of Lawrenceburg High School.
For the student creators of the Tiger Market, it represents more than just a physical space—it's a symbol of solidarity and empathy. They understand that life can throw unexpected challenges, and having a resource like the Tiger Market ensures that no student has to face those challenges alone. It's a tangible expression of the Tiger Way, a philosophy encouraged by Mr. Leiker, rooted in love and empathy. This commitment to living the Tiger Way emphasizes the importance of caring for each other, recognizing that by supporting one another, they strengthen the entire community.
The success of the Tiger Market relies on the support of the community. Donations from local residents, businesses, and organizations are encouraged and greatly appreciated. These contributions will help ensure that the Tiger Market remains well-stocked and capable of meeting the needs of Lawrenceburg High School students.
The Tiger Market is in need of the following items:
Deodorant (mens and womens)
Hair Care Items
Clothes (no shorts)
Underwear, Socks, Bras
Water Bottles
Hair Ties
Snack Food Items (granola bars, etc.)
Coats, Hats, Gloves
If you would like to make a donation (physical items or monetary), please contact Heidi Frost by emailing hfrost@lburg.k12.in.us or drop your donations off at Pillar Law Group in Downtown Lawrenceburg.
Lawrenceburg High School's Hope Squad believes that the Tiger Market will make a significant difference in the lives of students, providing them with the support they need to thrive academically and personally. The community's involvement is crucial in making this vision a reality, and together, we can create a more caring and supportive educational environment for all.