The Maverick Challenge is a 'Shark Tank' type business planning competition.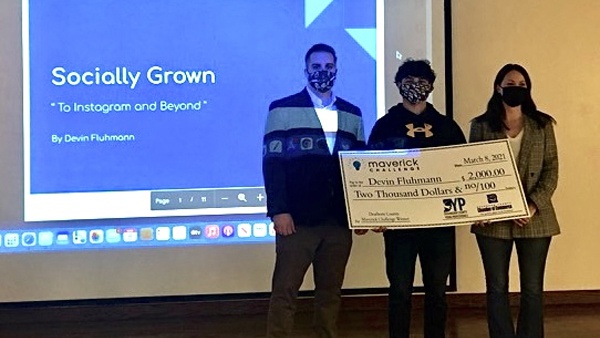 The Dearborn County Young Professionals and the Southeast Indiana Chamber Foundation presented a $2,000 check to Lawrenceburg High School's Devin Fluhman for winning the 2021 Local Maverick Challenge Competition. Photo provided.
(Lawrenceburg, Ind.) - Last month, the Dearborn County Young Professionals, along with the Southeast Indiana Chamber Foundation, presented a $2,000 award to Lawrenceburg High School junior Devin Fluhman upon being named the winner of the 2021 Maverick Challenge.
The Maverick Challenge is a 'Shark Tank' styled high school business planning competition where students pitch their business idea or invention before a panel of judges in hopes of being chosen the most viable business. Maverick is designed to expose high school to the viability of a career in entrepreneurship through a hands-on business planning experience. It also provides them with networking opportunities, and the opportunity to improve their public speaking skills and increase their leadership potential.
Students compete against other students throughout the county, presenting their ideas and detailed business plans as the competition progresses. During the competition, students meet with local mentors, speak with local business owners and complete an online curriculum that meets Indiana academic standards that guides them through creating their business plan. Winners of the local competition then move on to compete at the regional competition against other students throughout the state. Students compete for a cash prize at both the local and regional level.
This year, Lawrenceburg High School Students – Kyah Chase, Kirsten Cross, Katie Johnson, Devin Fluhman, Tanner Fox, Ethan Hopper, and Joel Vuko– were the sole participants, led by their Business teacher, Mr. Zane White.
Devin Fluhman won the local Maverick Challenge earning $2,000 to support his entrepreneurship. During the competition, Fluhman presented his business "Socially Grown," a social media company focused on assisting local businesses with branding and marketing through social media platforms to drive their exposure and ultimately their profits. During the competition, Fluhman worked with local smoothie favorite Burg Nutrition to boost their brand and promotions on the company's Instagram page.
Maverick Coordinator Hollie Stoops said: "We are always in awe of students' bravery to do this challenge. This year's participants were no exception. We are so proud of the work they did representing Dearborn County – completing this Challenge along with Mr. White's regular course curriculum."
The success of the Maverick Challenge depends on the commitment of someone willing to be a champion of the program, and someone who supports the students throughout the challenge. That's exactly what Mr. White did. It's my hope that next year, Maverick continues to grow and that other students and schools will participate and replicate Mr. White's outstanding leadership!"
Mike Cunningham, the president of the Dearborn County Young Professionals, provided the following statement: "Our organization constantly strives to encourage the entrepreneurial spirit in the next generation of young professionals, and the Maverick Challenge is the perfect way to accomplish that goal, by helping to guide students and connect them with local business leaders who can further mentor and assist them in their journey towards leadership and success in our community. We're proud of all the student competitors and we're thrilled to contribute to our future leaders."
"I cannot thank Hollie Stoops enough for her consistent leadership with this competition over the last several years. Mr. White also did a fantastic job leading his students and keeping them on the right track. Finally, our judges – Superintendent Karl Galey, owner of Willie's Steven Van Wassenhove, and Frienship State Bank's Amy Fryman – deserve major thanks for taking the time to provide critical and lasting feedback for these young folks."