More than $10 million would be spend to upgrade the high school's four-story academic wing that was built in 1937.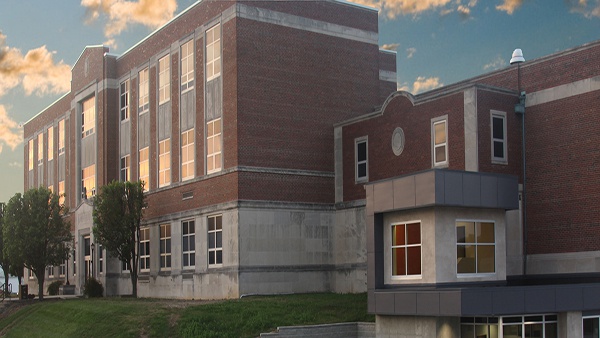 (Lawrenceburg, Ind.) - Millions of dollars worth of upgrades could be on the way at Lawrenceburg Community Schools.
The Lawrenceburg Community School Corporation Board of School Trustees voted Monday night to pass the adoption of preliminary determinations to move forward with over $22 million in renovations at Lawrenceburg High School, Greendale Middle School, Central Elementary School and Lawrenceburg Primary School.
Superintendent Karl Galey told Eagle Country 99.3 on Tuesday that more than $10 million would go towards upgrades at the high school. The school, which was built in 1937, hasn't seen significant upgrades since around 1980.
The plan is to update the current four-story academic wing, cafeteria and band and choir rooms. Galey says the school's math and science labs need improvements as well.
At Lawrenceburg Primary School, eight classrooms would be added to help house specialized services such as physical and occupational therapy. The added classes would also allow room for pre-school programming. Cost is estimated at $5,170,000.
"We are not trying to add classes for growth," said Galey.
Improvements at Greendale Middle School would include upgrades to the office area, locker rooms and media centers. Another $5,170,000 would be spent to make those upgrades.
Around $2 million would be spent to add new carpet and paint at Central Elementary School.
The three other schools would also get new paint and carpeting, and all four schools would be updated with energy efficient HVAC systems.
The school corporation is also looking into energy efficient LED lighting inside and outside of the schools.
"We are trying to address needs," said Galey. "We aren't trying to do anything extravagant."
Galey added that a parent expressed their appreciation for addressing the needs with a conservative spending approach during Monday's board meeting.
Right now, the school corporation is in a 30 day holding pattern before than can start any of the four separate projects. At the end of the 30 days, the school corporation can move forward with renovation plans unless a petition with an 'x' amount of signatures is turned into the Dearborn County Courthouse.
Galey says the school corporation plans to start with architects in January. They would create designs through April, followed by bidding around May. If everything works out and stays on schedule, work could start by summer of 2020.
All-in-all it could take up to three years for all four projects to be completed.