See the full schedule of events and street closure information here.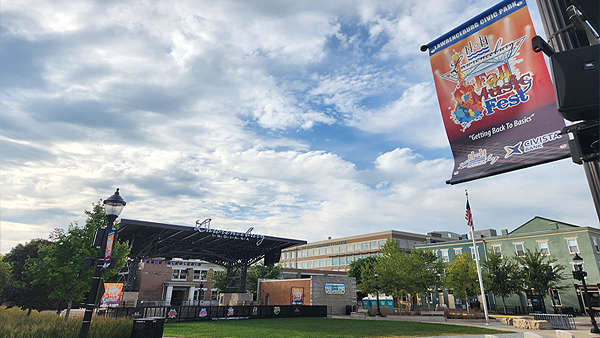 Lawrenceburg Fall Music Fest happens this Friday and Saturday at Civic Park. Photo by Travis Thayer, Eagle Country 99.3.
(Lawrenceburg, Ind.) - The weather forecast is looking good for the annual Lawrenceburg Fall Music Fest.
The free concert weekend takes place Friday, September 22 and Saturday, September 23 at Lawrenceburg Civic Park.
Friday's forecast calls for sunny skies with a high of 85 and a low of 56. The good weather will continue on Saturday with more sunshine, a high of 81 and a low of 53.
Saturday also marks the first official day of fall.
Fall Music Fest attendees will enjoy live music, food trucks, beer garden, a car show and more. No carry-in alcohol, coolers or pets are permitted. See a full schedule of events below.
FRIDAY ROCK NIGHT - SEPT. 22
5:00-11:00 PM - Beer Garden & Food Trucks Open
6:00-6:50 PM - UNION 22
6:50-7:00 PM - Mayor's Welcome & Citizen of the Year Award
7:00-8:30 PM - HIGH N FIDELITY (REO Speedwagon Tribute Band)
9:00-10:30 PM - E5C4P3 (Journey Tribute Band)
SATURDAY COUNTRY NIGHT - SEPT. 23
10:00 AM to noon - Car Show Registration at City Hall
2:00 PM - Mayor's Welcome - Civic Park Stage
2:15 PM - Star Spangled Banner/National Anthem
2:30 PM - PG Gentrup - Veterans Awards
3:30 PM - Car Show Awards at City Hall
2:00-11:00 PM - Beer Garden & Food Trucks Open
4:30-5:20 PM - RACHEL HOLT
5:45-6:35 PM - MICHELLE ROBINSON BAND
6:35 PM - Mayor's Welcome & Veterans Recognition
7:00-8:30 PM - BLOWN AWAY (Carrie Underwood Tribute Band)
9:00-10:30 PM - HUNTERGIRL
STREET CLOSURE PLAN
Closed Thursday, September 21 at 7 PM until Saturday, September 23 at midnight
E. High Street between Eagle Country 99.3 and Funny Farm Alley to Alley between Short and Elm streets
Short Street between New and William streets
New Street at alley behind Eagle Country 99.3 to E. High and Elm street intersection
During Fall Music Fest Car Show (Saturday only from 7 AM to 4 PM)
Walnut Street will be closed from the Lawrenceburg Community Center entrance to E. High Street
Free parking access available at Ivy Tech parking garage, city parking lots and off-street parking
ALTERNATE ROUTES TO IVY TECH PARKING GARAGE
U.S. 50 to Walnut Street entrance to parking garage available Friday and Saturday after 4 PM
U.S. 50 to right on Front Street, left on W. High Street, right on Walnut Street
U.S. 50 to Arch Street, right on Center Street, left on Elm Street, entrance to parking garage at E. High and Elm streets
U.S. 50 to Hollywood Boulevard to Center Street, left on Elm Street, entrance to parking garage at E. High and Elm streets