Donations will go towards the annual Christmas Shopping Event.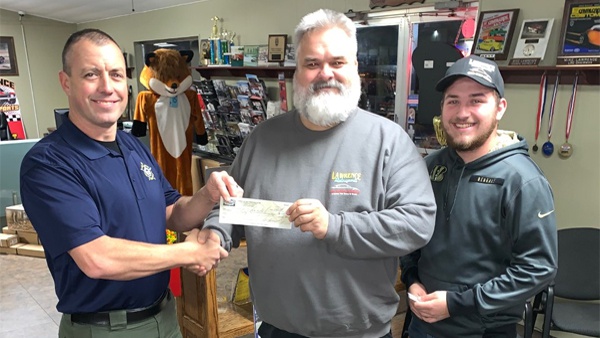 Pictured: Lawrenceburg Police Officer Bill Halbig of the Laughery Valley FOP receives the donation from Lawrence Motorsports.
(Aurora, Ind.) - Lawrence Motorsports made a generous donation of $500 to the Laughery Valley Fraternal Order of Police Lodge #146 to help with the "Cops and Kids" Christmas Shopping Event.
This event gives the opportunity for a child to shop with a Police Officer for clothing and toys during the Christmas season.
If you are interested in making a contribution, donations can be dropped off at any police department in Ohio or Dearborn County, given at the Lawrenceburg or Aurora First Financial Bank, or mailed to the FOP P.O. Box 3763, Lawrenceburg. Checks can be written to FOP Cops and Kids.
RELATED STORIES:
DCF Proactive Impact Grant Supports F.O.P. Cops And Kids Program
Donate Now To Help Cops Take Kids Christmas Shopping