The annual contest helped kickoff the first night at the fair on Wednesday.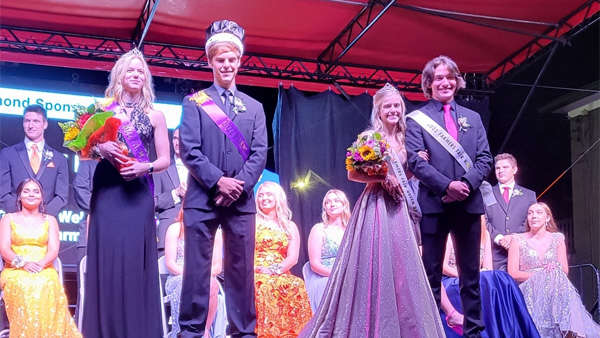 Left to right: Queen Josie Hartman, King Jacob Hoff, Princess Dakota Richards and Prince Max Burger. Aurora Farmers Fair Facebook photo.
(Aurora, Ind.) – Four students from area schools stood out among 20 King and Queen contestants Wednesday night at the Aurora Farmers Fair.
Jacob Hoff (Oldenburg Academy) and Josie Hartman (East Central) were named the Farmers Fair King and Queen.
Hoff is the first Oldenburg Academy student to be crowned King since 2010 when Mark Zinzer won the contest.
Hartman joins Paige Gindling and Kelley Rennenger as recent Queen winners from East Central.
South Dearborn's Max Burger and Switzerland County's Dakota Richards were the King and Queen runner-up.
Other contestants included:
Josie Hartman and Matt Small – East Central
Kylie Ohlmansiek and Cordell Ricke – Jac-Cen-Del
Darce Combs Gariby and Joseph Chappe – Lawrenceburg
Abby Ball and Brayden Rohrig – Milan
Marissa Eckstein and Jacob Hoff – Oldenburg Academy
Sidney Halloran and Jacob Pratt – Rising Sun
Kiersten Dixon and Max Burger – South Dearborn
Josselin Agular (Shawe Memorial) and Alex Witte (Lawrenceburg) - Southeastern Career Center
Mya McNew & Gabe Block – South Ripley