Andy Beshear says the contract between the state and its public employees is "unviolable."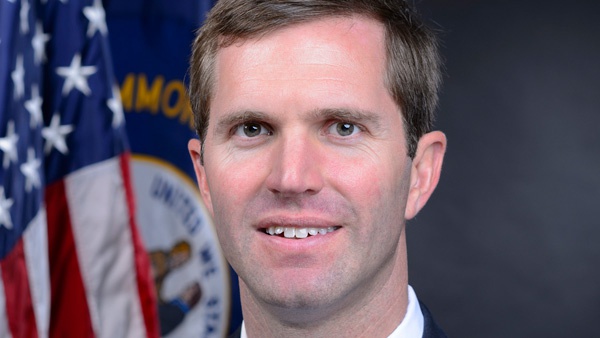 Kentucky Attorney General Andy Beshear. Photo via www.ky.gov.
(Frankfort, Ky.) - Kentucky Attorney General Andy Beshear says the state's new pension reform law violates the "inviolable contract" with teachers and state workers.
Beshear, a Democrat, filed in Franklin County Circuit Court on Wednesday a lawsuit to stop the new law from taking effect. Governor Matt Bevin signed the new law, Senate Bill 151, earlier this week as a means of addressing the state's $40 billion in unfunded pension liabilities.
Beshear says he's suing to protect who he calls "Kentucky's hardworking public servants." He said the contract between the state and its public employees is "unviolable."
"That's a promise the General Assembly made to teachers, social workers, police officers, firefighters decades ago that said if you dedicate your life to public service -- teaching our children, protecting our families, serving the neglected -- that while we wouldn't pay you enough, we would guarantee you a good and safe retirement," Beshear said.
Beshear's lawsuit filed in conjunction with the Fraternal Order of Police and Kentucky Education Association seeks to halt the law from going into effect until a court has ruled on it.
Governor Bevin's communications director, Elizabeth Kuhn, issued a response to Beshear's lawsuit, stating that the attorney general and his father, former governor Steve Beshear, have always treated pensions as political currency.
"Over eight years, former governor Steve Beshear underfunded the pension system by billions, recklessly diverting much needed funds to other causes and allowing the system to become the worst funded in the country," Kuhn said.
"Now, the Attorney General is carrying on the Beshear family legacy by trying to block a law that will strengthen our pension system. The Attorney General has threatened litigation since the process began, proving that he cared less about the contents of pension reform and more about scoring political points with the KEA—a reliable source for family fundraising."
Meanwhile, there is plenty of guessing about what comes next in Frankfort. Kentucky lawmakers are due back at the capitol Friday to deal with Bevin's vetoes. Earlier this week, the governor vetoed both the new state budget and the tax package that pays for it because he says they are fiscally irresponsible.
Top Republicans in the legislature say the governor is wrong, but aren't saying if they have the votes to override the governor.
RELATED STORIES:
Ky. Gov. Signs Pension Reform Ahead Of Possible Budget Battle