Gov. Beshear and KSP encourage Kentuckians to donate non-perishable food items to families in need.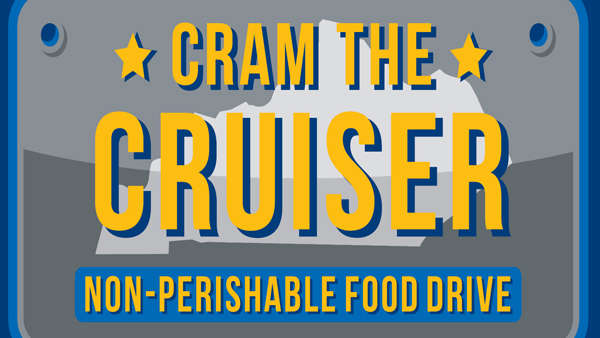 Photo by Kentucky State Police.
(Frankfort, Ky.) – Governor Andy Beshear and the Kentucky State Police are encouraging Kentuckians to 'Cram the Cruiser'.
The donation drive got underway on Tuesday and will run through Monday, December 6.
Kentuckians can help by donating non-perishable food items to help feed families in need this holiday season.
"The holidays can be tough for families, but one area that should not be stressful is having the ability to sit down together and share a meal," said Gov. Beshear. "My administration is committed to fighting hunger and helping to ensure that no family in Kentucky goes to bed hungry. I appreciate KSP for caring for all Kentuckians not just by protecting their lives but serving them so their most basic need is met."
Cram the Cruiser is a statewide effort hosted by all 16 KSP posts, and the collected food is distributed to local food banks, shelters, churches and other organizations.
Throughout the food drive, troopers will be staged at grocery and retail stores. Food items may also be dropped off at local post locations.
In northern Kentucky, items may be dropped off at KSP Post 6 in Dry Ridge, 2365 U.S. Highway 25.
For more information, visit 2021-Cram-The-Cruiser-Schedule-Flyer.jpg (2550×3300) (kentuckystatepolice.org).