It was a special day at the Dearborn County Courthouse on Wednesday.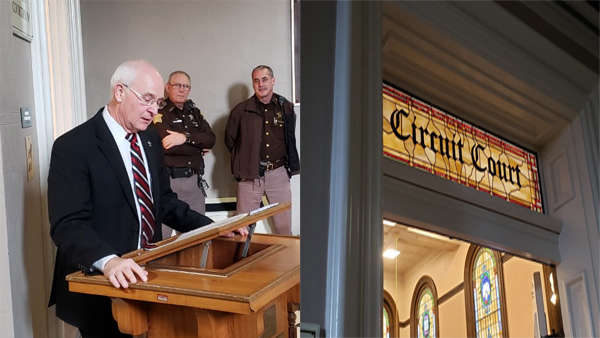 Judge James Humphrey unveils the new stained-glass window outside of Dearborn Circuit Court and announces his retirement at the end of the current term. Photos by Travis Thayer, Eagle Country 99.3.
(Lawrenceburg, Ind.) - When Judge James Humphrey announced there would be unveiling ceremony for a new stained-glass window outside of Dearborn Circuit Court, very few knew that he would also be announcing his retirement.
The longtime Circuit Court judge will retire at the end of his current term, which runs through December 31, 2022.
Judge Humphrey has served as Circuit Judge since 1999.
"It is a challenging position, an awesome responsibility, said Humphrey. "You realize this when you sit at that bench and look out at the history of this courtroom and the problems that you are called upon to solve every day. This is not just a job folks, it's a way of life."
Humphrey's parting gift, along with his wife, Heidi, is the new stained-glass window reading "Circuit Court" that now hangs above the door to the courtroom. The new window was created by Cincinnati-based Hinnekamp Glass Crafters.
According to Judge Humphrey, the original collection of stained-glass windows in Dearborn Circuit Court were installed in 1939. Then Judge W.D. Ricketts made substantial improvements to the courtroom including new furniture, which is still used today, new jury chairs, and stained-glass windows.
"Over the past 24 years, we've done our best to preserve and improve our magnificent courtroom, our symbol of justice, through refinishing furniture, the bench, painting and refurbishing the chandeliers, reframing the former judges' photographs. There is and will always be more work to be done," said Judge Humphrey.
Jacob and Joseph Hinnekamp had the honor of crafting the new stained-glass window, which is the first addition to the courtroom in over 80 years.
"On behalf of Heidi and I, this is our gift for the people of this community in appreciation for the opportunity to serve," said Judge Humphrey. "Did they do a great job, or what?"
There will soon be a plaque added to the wall to recognize the work of the Hinnekamp's, and will show it is presented as a gift from Judge Humphrey and his wife. The plaque will be inscribed with Humphrey's years as judge from 1999-2022.
"It is going to be difficult to walk off that bench that last day and leave all the staff and people I've worked with and served each day," said Humphrey. "I love what I do and the people I work with but leaving at the end of this year is the right thing to do and the right time to do it. Rest assured; we are not moving away. This is and will always be our home."
RELATED STORIES