Margie Lynn Thompson and her boyfriend are accused of murdering his mother and grandfather in Aurora last January.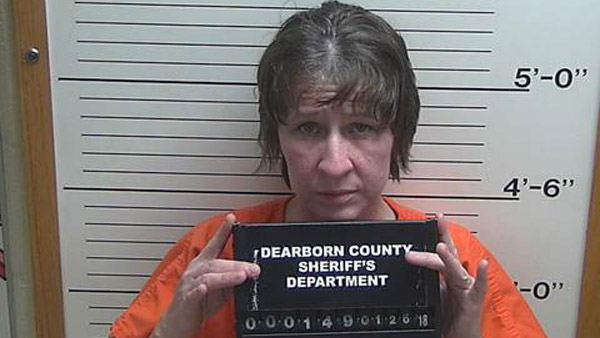 Margie Lynn Thompson. Photo by Dearborn County Sheriff's Department.
(Aurora, Ind.) - A woman accused in a Dearborn County double murder has been deemed competent to stand trial.
Cody Wayne Booth along his girlfriend, Margie Lynn Thompson, are accused of murdering Faith Craig and Walter Bryant, Jr. at their Douglas Drive home in Aurora last January. Investigators say Booth and Thompson murdered his mother and grandfather because the couple were "dope sick" and needed money to buy drugs.
Thompson's attorney in February requested mental health evaluations to help determine if she is competent to stand trial. Additionally, two psychiatrists were tasked with determining if Thompson was insane at the time of the murders.
The psychiatrists evaluated Thompson and returned reports to Dearborn Circuit Court Judge James Humphrey. On July 3, Humphrey ruled that Thompson is able to assist in her defense and, thus, will stand trial for murder.
"That based upon these findings, the Court finds that the defendant is competent to stand trial and this matter shall proceed to trial as scheduled," Humphrey wrote in the order.
Booth and Thompson's joint trial is currently set to begin on November 5. Thompson's appointed attorneys are Gary Sorge and Jared Ewbank. Booth is being represented by Michael Sarapata and Jerome Charls.
Sorge indicated in a February filing that the psychiatrists could be asked to testify about Thompson's mental state at trial.
Both Booth and Thompson remain held in jail without bond.
RELATED STORIES:
Bond Denied For Man Accused Of Murdering Mother, Grandfather
First Court Appearance Tuesday For Man Accused Of Murdering Mother, Grandfather
Son/Grandson, Girlfriend Charged With Aurora Double Murder
Family Issues Statement On Faith Craig And Walter Bryant Jr. Murders
Court Docs Detail Mother, Grandfather Murders
Family: Murder Victim Faith Craig "Gave Everything She Had To Help Him"
Purple Heart Veteran, Daughter Identified As Double Murder Victims