Shelby Cole will head up the program as Career Coach.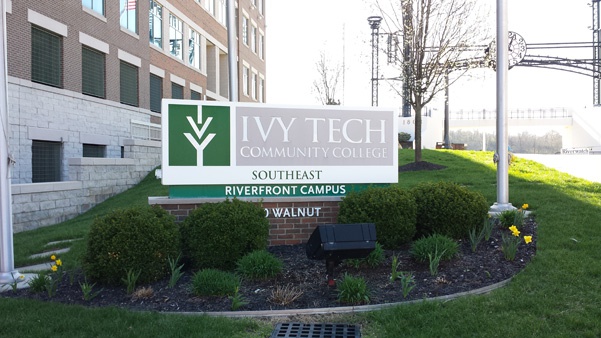 (Lawrenceburg, Ind.) - Lilly Endowment has made a grant to the Ivy Tech Foundation to support Ivy Tech Community College's new statewide Career Coaching and Employer Connection (CCEC) program. This new, more strategic approach, will emphasize comprehensive career readiness practices working alongside academic preparation throughout a student's college experience. The new approach will transform Ivy Tech's current Career Development structure and programs to focus on intentional career advising and employer engagement.
Ivy Tech Community College of Lawrenceburg and Batesville is pleased to announce that Shelby Cole has been hired as the Career Coach with the CCEC program. Shelby joined Ivy Tech in December of 2019 with the enrollment team assisting new and current students with their enrollment steps and with financial aid. In the Career Coach role, Shelby will continue serving the students of Ivy Tech and assisting them with their career development.
The CCEC team will be working as a cross functional team to help students put together their Career Development Portfolio and prepare them for their job search. This new team will work collaboratively with businesses to help coordinate internships, externships, and work and learn opportunities in the Lawrenceburg and Batesville Service Area serving the counties of Dearborn, Franklin, Ohio, and Ripley.
"We have heard students and employers and have designed the Career Coaching and Employer Connections program to ensure our graduates leave Ivy Tech career-ready and enter into available high-wage, high-demand careers with local employers," Ivy Tech Senior Vice President for Workforce and Careers Chris Lowery said. "The result will be clear and meaningful pathways for students that equip them with the knowledge and skills needed to thrive, ultimately enhancing the Hoosier workforce, economy, and communities across the state." Chris R. Lowery, Senior Vice President Workforce and Careers
"Career Coaches within Career Coaching and Employer Connections offices will emphasize partnership with students throughout their entire time at Ivy Tech, supporting them in the pursuit of their career goals with a Career Development Portfolio process that includes exploration, tools, and resources that will facilitate their career launch. Our developmental approach to career coaching will not only support students in their launch from Ivy Tech, but will also foster a lifetime of application toward career path potential. We appreciate Shelby Cole's acceptance of this important role." -Brandi Smith, Executive Director of Career Coaching
"I am very pleased that Shelby has accepted the new position as Career Coach as part of the newly formed CCEC," says Ivy Tech Lawrenceburg and Batesville CCEC Executive Director Ron Eads. "Shelby's prior work in Careers at NKU, as well as her prior work at Ivy Tech, makes her a great fit for this initiative. Her knowledge and experience are invaluable as Ivy Tech implements the CCEC services to Manufacturing, Healthcare, and Information Technology partners in SE Indiana. Students will greatly benefit from Shelby's expertise."
Shelby originates from Rising Sun and graduated from Rising Sun High School. She still resides in Ohio County with her husband Joe, and their son Elliott. Shelby completed her Master's degree in Adult Education with a Certificate in Career Services from Western Kentucky University and earned her Bachelor's Degree in Communication from Northern Kentucky University. Upon graduation, Shelby interned at Walt Disney World in Orlando, Florida, developing her communication, critical thinking, and leadership skills. After her time in Florida, she made her way back to higher education serving as a Financial Aid Coordinator and as an Admissions Coordinator of Communication and Technology at NKU. Then in 2019, she joined Ivy Tech as a Student Services Professional helping students enroll at the college. Throughout her career she has helped many students with their career path along the way and is excited to continue helping students here at Ivy Tech Lawrenceburg/Batesville.
"During my undergrad at NKU, I changed my major 6 different times. I was to the point where I had no idea what I wanted to do with my career. However, after working with the Career Services Department at NKU, I was able to find my passion in Higher Education. When I met with my Career Coach at NKU, we designed a personalized path through taking assessments and through conversation that was dedicated to my future goals. After going through Career Coaching myself, I see the value in Career Coaching and want to use my experience and knowledge to help students with their career exploration and career development through all the services we offer through the Career Coaching and Employer Connections (CCEC) team. I am eager to bring all of my skills to empower Ivy Tech students to reach their fullest potential."
Contact Shelby today to get your career appointment scheduled! Email her at selliott13@ivytech.edu or call her at 812-537-4010 X5335. She is taking in person and zoom appointments. She can't wait to meet you!