The project is expected to last into the summer months.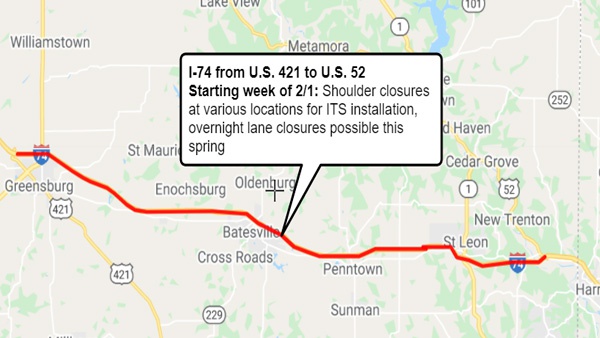 Photo by INDOT.
(Dearborn County, Ind.) – Work is expected to begin this week to expand INDOT's Intelligent Transportation Systems (ITS) in four southeastern Indiana counties.
INDOT announced Monday that contractor Midwestern Electric will start work this week on the nearly $1 million project on the ITS on Interstate 74 between U.S. 421 and U.S. 52.
The majority of work will be completed under daytime shoulder closures in various locations throughout Dearborn, Decatur, Franklin and Ripley counties, more specifically between West Harrison and Greensburg. INDOT says overnight lane closures are possible later in the spring.
Indiana's ITS includes traffic cameras, in-pavement sensors, dynamic message boards and other interactive signage. The systems communicate weather conditions, traffic speeds, and other roadway data to motorists across the state.
The project is expected to be completed this summer.
For more information, visit https://www.in.gov/indot/2420.htm?utm_medium=email&utm_source=govdelivery.