Charges have been filed in Dearborn County.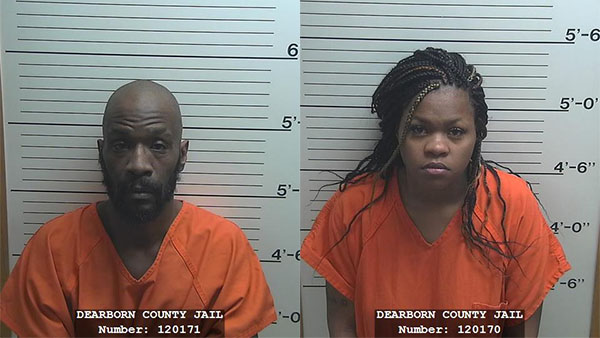 Edward L. Colllier and Rheonia L. Jackson. Photos by the Dearborn County Sheriff's Office.
(Greendale, Ind.) – The two people arrested in connection to a bank robbery have been formerly charged.
Officers in Dearborn County responded to the bank robbery at the U.S. Bank on Ridge Avenue in Greendale around 1:00 p.m. Thursday.
The initial investigation by Indiana State Police and Greendale Police determined that a black male, wearing a disguise entered the bank, displayed a handgun and demanded money from the teller.
The man left the bank with an undisclosed amount of money and left the scene in a Buick LeSabre. A short time later, a Buick LeSabre was found parked near the bank with no passengers and the engine running. Police say the Buick was stolen from Indianapolis.
A nearby security camera revealed that a man matching the description of the suspect parked the vehicle and got into an orangish Dodge Charger, driven by another person.
At approximately 4:00 p.m., Indiana State Police observed the Dodge Charger on westbound I-74 and made a traffic stop. The occupants, Edward L. Colllier, 44 and Rheonia L. Jackson, 24, both of Indianapolis, were found in possession of U.S. currency, a handgun and other evidence related to the bank robbery.
Police say Collier and Jackson drove to Rising Star Casino after the robbery and discarded the disguise and clothing allegedly worn by Collier during the robbery. They were attempting to return to Indianapolis when they were taken into custody.
Collier and Jackson were transported back to Dearborn County Jail where they are both incarcerated on felony charges of Robbery While Armed with a Deadly Weapon and Conspiracy to Commit Robbery While Armed with a Deadly Weapon.
Both suspects are being held pending their initial appearances in Dearborn County Circuit Court.
RELATED STORIES:
UPDATE: Two Arrested In Connection To Greendale Bank Robbery