The estimated value of the Switzerland County resort varies widely in the opinions of the casino and the county assessor.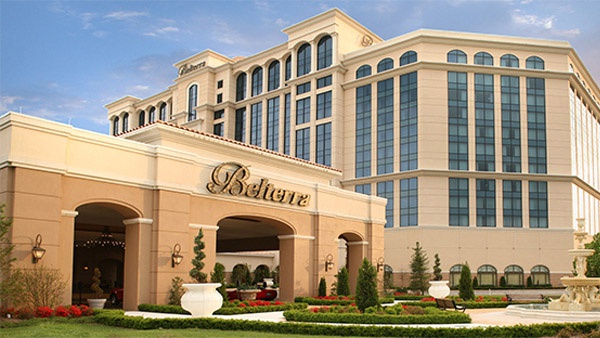 Belterra Casino Resort & Spa in Switzerland County, Indiana.
(Switzerland County, Ind.) - Belterra Casino and Switzerland County's court battle over the property valuation of the casino has received a decision from the Indiana Tax Court.
The county and casino have been at odds over the valuation of the 250-acre casino, hotel, and golf course property between 2009 and 2014. The amount would have a multi-million dollar impact on property tax revenues for local governments and schools.
The Indiana Tax Court issued a decision May 24 upholding in part and overturning in part the Indiana Board of Tax Review's valuation of the casino at $98.5 million. That's more than the casino said it is worth, but less than the county believed.
The separation of the two parties' assessment is wide. During a May 2016 hearing before the board, the county maintains the casino's market-in-use value estimate was $134.3 million in 2009, which – due to the economic recession and lower revenues thanks to casino competition opening in Ohio – decreased to $127 million by 2014.
Meanwhile, the casino suggests its estimated value increased from only $44.4 million in 2009 to $48.7 million five years later.
After the Board of Tax Review set its amount near the middle of those competing figures, both the casino and county appealed.
The tax court recently reversed the board's adoption of the county's going concern valuation. However, it affirmed that Belterra's own valuation of the its resort was not supported by the evidence.
The court reinstated the property's 2008 assessed value of $102.3 million, about $7 million less than the county assessor's original 2009 assessed value.
The ruling does require the assessor to make modifications to the riverboat value from $4.3 million for 2009 and declining each year to $3.5 million for 2014. For the golf course, the value was set at $3 million for the 2014 assessment. The portion of the value for the golf course is to remain as originally assessed in 2009, and the value of the hotel will remain intact for both 2009 and 2014.
The assessed value battle may not necessarily be settled with the Indiana Tax Court's ruling. Either party could file an appeal directly to the Indiana Supreme Court.