Pollution from four other states flows downstream in the Ohio River toward Indiana communities.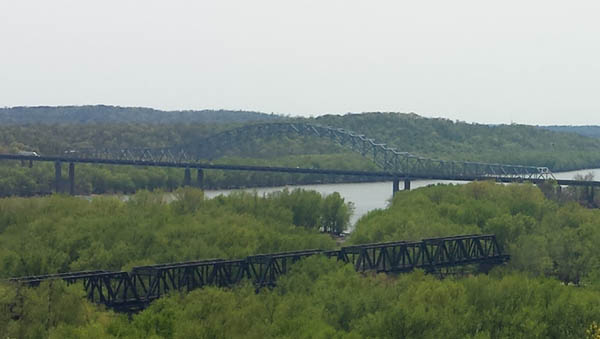 The Ohio River at the Carroll C. Cropper Bridge. File photo.
(Indianapolis, Ind.) - Water quality along Indiana's southern border could be impacted by a long-awaited vote expected this week.
The Ohio River Valley Water Sanitation Commission is reconsidering its role in setting limits on pollution discharges in the Ohio River, which includes more than 300 riverfront miles in Indiana. The agency has been around for nearly 60 years and is comprised of commissioners from eight states, including Indiana.
With the federal Environmental Protection Agency and states setting their own standards, the argument is that ORSANCO could focus its efforts on monitoring and spill response. Jason Flickner, director of the Lower Ohio River Waterkeeper, said he thinks that would result in a patchwork of weaker standards among states.
"From Pittsburgh, Huntington, W.Va., and Cincinnati, it's all coming downstream to Indiana," he said, "so Indiana has quite a bit to lose from any loss of water quality in the Ohio River."
ORSANCO has more than four dozen standards that are not present in Indiana regulations. The commission is to meet on Thursday in Covington, Ky., and could decide on another proposal that would strengthen the standards and ensure they are enforced consistently by states. An initial vote was expected in October, but postponed for further review after a flurry of public comments in opposition.
While progress has been made over the years in water quality, Flickner noted that the Ohio River consistently is ranked as the most polluted in the country, with an estimated 30 million pounds of toxic chemicals illegally dumped into its waters each year.
"Mercury is a major problem in the Ohio River Basin. Especially in the lower basin, they're finding mercury in fish tissue that far exceeds the human health standard for consumption," he said. "Another problem is nutrients; the Ohio River is one of the biggest contributors of nutrient pollution to the Gulf of Mexico dead zone."
Besides health and environmental concerns, Flickner, who also is a member of the executive committee of the Sierra Club's Hoosier Chapter, added that poor water quality also can hurt economic investments in southern Indiana communities.
"Madison, Jeffersonville, New Albany and Evansville, where you're seeing hundreds of millions of dollars being invested into downtowns and waterfront developments, greenways, those types of things," he said. "The downtowns were dead and now that there's investment into these riverfront areas, people are coming back."
More than 4 million Hoosiers live within the Ohio River Basin.
RELATED STORIES:
Environmentalists: ORSANCO Shouldn't Eliminate Ohio River Pollution Standards
ORSANCO Delays Vote On Rolling Back Ohio River Pollution Standards
Critics: Vote This Week Could Undermine Ohio River Water Quality