The Hoosier Environmental Council is among the groups demanding that the commission overseeing pollution in the Ohio River not drop its standards.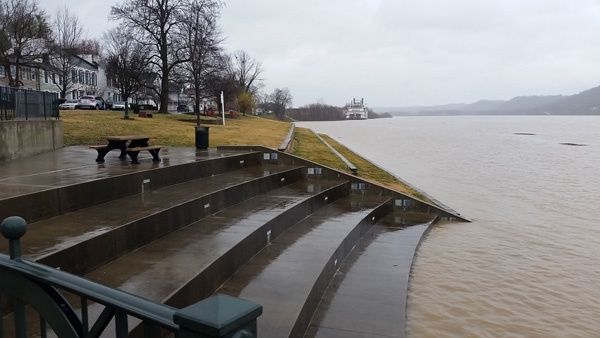 The Ohio River in Rising Sun, Indiana. File photo
(Cincinnati, Oh.) - An interstate commission which monitors pollution in the Ohio River may be scrapping its pollution standards.
The Cincinnati-based Ohio River Valley Water Sanitation Commission oversees an agreement among eight states who have watersheds draining into the river. Some of the numeric pollution limits have been in place for 70 years.
ORSANCO reviews its pollution control standards every three years. This time, however, ORSANCO's commissioners voted in June to advance a plan to drop the standards. View the proposal at www.orsanco.org/programs/pollution-control-standards/.
The supporting commissioners reason that Ohio River states are already effectively applying such criteria and no longer need ORSANCO's input.
Environmentalists are now shouting that the quality of the river, already one of the most-polluted waterways in the U.S., will suffer from non-uniform state regulations governing pollution discharged into it.
"They argue that the states along the Ohio have standards that will adequately protect the river, but that isn't accurate. There are more than 100 ORSANCO standards that are either missing or weaker in Indiana's standards, and the situation is similar in the other Ohio River states," says Dr. Indra Frank, Environmental Health & Water Policy Director with the Hoosier Environmental Council.
Frank explains that each existing ORSANCO standard is a scientifically derived maximum amount of a chemical the Ohio River can have and still be healthy for people and aquatic life.
Elimination of ORSANCO's pollution control standards would also eliminate public review of the standards, according to Our Ohio River, a campaign by Lower Ohio River Waterkeeper.
The ORSANCO commission has another vote scheduled for October 4 before the pollution standards are dropped. Last week, the organization announced it has extended a 45-day public comment period by 10 days, now continuing through August 20.
Until then, citizens can continue to submit comments to the commissioners by emailing PCS@orsanco.org. Emails must not contain attachments, according to ORSANCO.
Comments may also be sent by U.S. Mail to ORSANCO, 5735 Kellogg Avenue, Cincinnati, OH 45230, Attn: PCS Comments.
A public hearing was held on July 26 in Erlanger.