Three bills and a resolution have been authored by Hamilton to create climate change action.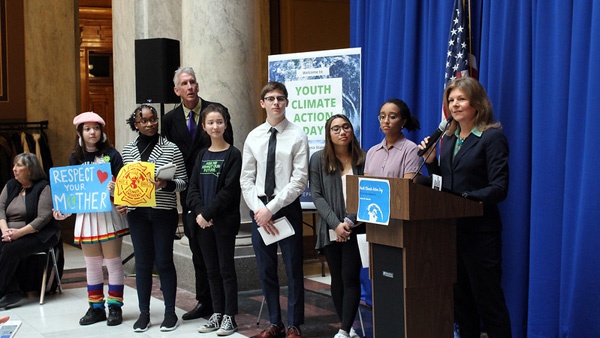 (Indianapolis, Ind.) - State Rep. Carey Hamilton (D-Indianapolis) is advocating for a sustainable Indiana.
There have been three climate action bills and a climate action resolution authored by Hamilton to create a change now.
House Bill 1227 eliminates the supplemental fee to register an electric or hybrid vehicle in hopes to remove the barrier to the growth of clean car sales in Indiana and send a signal that Indiana cares about air quality and reducing carbon emissions.
House Bill 1228 would replace net metering for renewable energy, which would eliminate the roll backs seen in 2017's Senate Enrolled Act 309. This would help grow renewables by creating cheaper energy for rate payers and a more resilient energy grid.
House Bill 1415 aims to assist communities across Indiana build climate resilience by facilitating investments in storm water management.
The climate resolution aims to reduce carbon emission and build resiliency led by a bipartisan task force. Based on Purdue's climate research, recommendations such setting a renewable energy target, protecting our agricultural sector, growing Indiana's clean energy manufacturing sector, decreasing carbon emissions from vehicles, and strengthening the circular economy will be brought up to the legislative body.
"Today was about acknowledging the problem and taking action to strengthen Indiana, protect our agriculture sector, build resilient communities, grow a renewable energy economy, improve our quality of life and strengthen our economy into the future... This week, House Bill 1414 will likely be on the House floor – a bill that will increase energy costs and pollution while hindering the expansion of clean, cheaper renewables. We are better than this bill and I believe the State of Indiana can and must be part of the solution. If we decide to do so, we can innovate and invest and build a stronger, healthier, more resilient Indiana," says Hamilton.
To help facilitate the need for change, Hamilton invited hundreds of youth climate action leaders from across Indiana to call on the state legislature.
Youth Climate Action Day was held to give the future leaders a say in the matter.
"This is about giving voice to our young people who inspired me to take action despite Republican supermajority policies moving us in the opposite direction," said Hamilton.
Before representing Indiana House District 87 in the Indiana General Assembly, Hamilton served as a supporter of climate action by giving 20+ years as a nonprofit executive in the environmental field. Throughout that time, she managed several policy development initiatives and public outreach programs.