With population and household changes in the Midwest, One Dearborn is brainstorming ways to effectively stay up with housing market and what it has to offer for our county.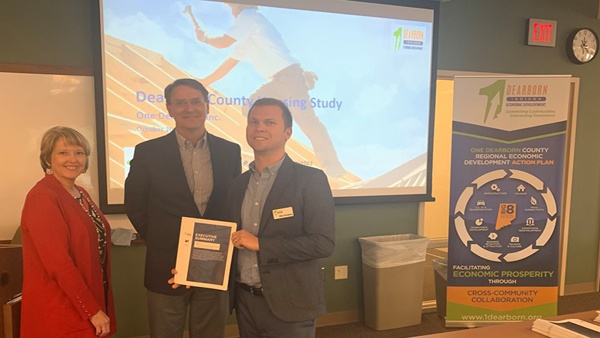 (From left to right) Terri Randall, One Dearborn President and CEO, Matt Rueff, Ratio Design, and Mike Perleberg, Director, Marketing and Community Projects.
(Lawrenceburg, Ind.) - One Dearborn held a Housing Market Analysis Presentation to inform the community where our current housing market stands and the possibilities for the future.
Matt Rueff, Ration Design, was the consultant who teamed up with One Dearborn to compile information for the analysis and implementation.
The presentation focused on the housing market demand that we are seeing in Dearborn County.
Dearborn County was separated in three sub-markets to better understand the needs of the county. Southwest, Northwest, and the River Cities were the three sub-markets categorized in the study.
As far as the housing market demand goes, the study put an emphasis on single-family residential units.
The two significant markets that our area can attracted to our area, based on values, strengths, and income levels, would be the 'comfortable empty nesters' and 'soccer moms'.
When looking at developing new housing, Dearborn County ran into problems. However, the housing market experts recommended a proactive approach.
A major issue that was seen when doing this research was the lack of access to to sanitary sewers, and finding ways to afford the infrastructure.
With the economic benefits of adding more affordable housing on just one acre of land, the county could double its gross tax revenue.
Including Housing Programs could help solve problems that we are seeing in Dearborn County such as, building walkable neighborhoods to attract future homebuyers and historic preservation restoration and rehabilitation improving current aging inventory.
Areas that show the most potential for new housing development include Hidden Valley, Bright, Moores Hill, Dillsboro, and all over the River Cities.
You can find Housing Development Projects and those timelines in the Executive Summary.
You can direct any questions to Terri Randall at trandall@1dearborn.org.
Read the full report at www.1dearborn.org.